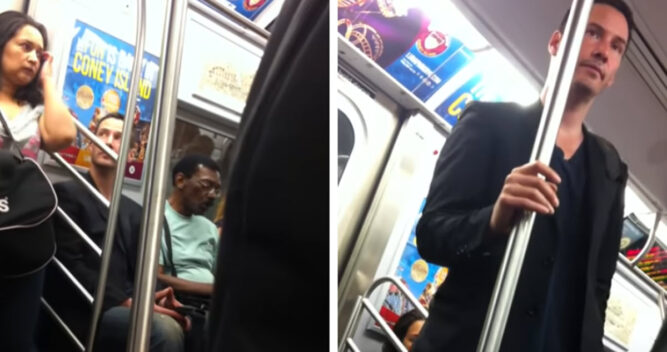 When it comes to Hollywood celebrities, most don't really get a lot of praise for being everyday people with good hearts. Certainly, there are some friendly and compassionate celebrities out there, but would they give up their seat on a subway in New York City for a random person? Well, one of them sure would and he was captured on camera doing just that recently. Hollywood heartthrob Keanu Reeves was on a train going somewhere and someone had their camera trained on him. Reeves appeared to be aware that someone was filming him, but only realized it after he already gave up his seat.
Reeves was sitting on the subway when he noticed a woman standing near him. He leaned up and asked her if she would accept his seat. The woman looked relieved and happily traded spots with the superstar. Reeves is always very popular and has a reputation for being a genuinely good person. People are calling Reeves a "true gentleman" after whoever filmed him on the subway uploaded the video to social media. The video is from 2011, but it recently started going viral again since Reeves is making news again. In the video, you can see that the woman was holding a heavy bag.
No doubt the actor noticed that lady struggling with her bag and although sitting down is always easier when traveling on a subway, he felt compelled to get up and give the lady his seat. Since it was uploaded to YouTube, the video has been viewed more than 27 million times and has 419K likes on the video platform. Bizarrely, it also has more than 7K dislikes, which makes no sense. What could anyone find offensive about this charming video?
The video went viral again recently when Cinemonkeys, an Instagram movie fan account, shared it on Instagram. Watch the video below.