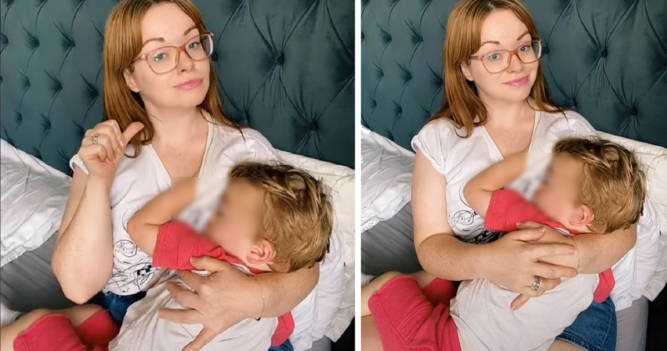 A U.K. mom named Riona O Connor has shared a lot of videos and photos of herself online that shows her breastfeeding her children. That in itself isn't controversial, but the lady has taken some criticism recently for breastfeeding her four-year-old son. Needless to say, people on the internet have a lot of opinions about this practice. As for me, I do not. I'm not a mother. I'm not even a father (I'm a stepfather). And even if I were, it's none of my business. However, that doesn't stop others from making it their business. While many people support the mom, plenty of others clearly do not.
Some people even accused her of abusing her child by breastfeeding him. The fact is, whether or not to breastfeed is a hugely personal matter, but like all things to do with women's bodies, there are plenty of people who think they should have some control over how it's done or if it's done at all. While mothers are often judged if they don't breastfeed, they are also judged if they do. They're not given the proper accommodations to breastfeed when they're working, and pumping milk is something they're not encouraged to do without snide remarks and weird looks from men.
Riona has two healthy children who are happy and well-adjusted. However, she got a lot of criticism when she shared a video and photo showing her breastfeeding her older child. In a photo she posted on Facebook, she said that she never dreamed that when a midwife handed her baby to her, she would still be breastfeeding him four years later. As a comedy video creator, she has a lot of followers, so people definitely took note. Nevertheless, the mom is not afraid to live in her truth.
The good thing is that Riona has used the debate to help to continue to normalize the act of breastfeeding. Watch the video that sparked the debate below.