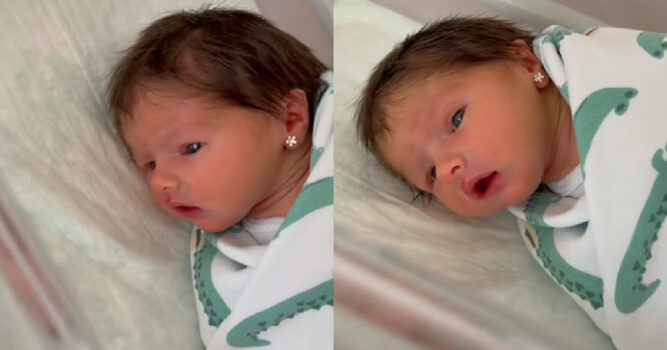 A new mom started a heated debate on social media after she shared that she had her infant daughter's ears pierced just one day after she was born.
According to Newsweek, the child's ears were pierced while she was still hospitalized.
The mom, who shares videos under her baby's name, Lara, using the handle @laraticaofficial, routinely posts new videos showing just how much her little girl has grown.
In the clip, she showed viewers a peek at baby Lara when she was just a newborn in the hospital before cutting to footage of her at three months old.
"The time [passed] too fast. Missing you being this small," the mom captioned the post.
However, rather than focusing on how cute and sweet little Lara looked, many viewers quickly pointed out the silver studs in her ears at both one day and three months old.
For many, the idea of piercing an infant's ears at such a young age is insane.
"Bro was still in the damn hospital bed but had earrings on," one shocked person commented. Another user joked: "So do they pierce the ears before they cut the cord?"
Some viewers also raised concerns asking if piercing such a young child's ears was safe or even legal.
"How is that ear piercing even legal? I thought the age was 3mo," one wrote, while another commented: "I'd be so afraid she pulled them off and choked on them.."
But not everyone was against the idea. Many users came to the mom's defense, informing critics that piercing a newborn baby's ears is common in many cultures.
"You all are so judgmental! In my culture, we pierce as infants. I have three daughters, and had theirs pierced none flinched, nor had any problems," one person wrote.
"In our culture/family, we also have ears pierced as soon as they are born," agreed another.
"Personal opinion….she is adorable and i totally love the earrings…. Who cares what other people say," chimed in a third.
In an interview with Newsweek, the unnamed mom in Colombia said that she believed piercing her baby's ears just after birth was less painful than if she'd waited until she was older.
When asked why she decided to pierce Lara's ears while she was stilled at the hospital, her mom replied:
 "Because I wanted to, and that it is possible in our country."
The video below shows you an interesting debate about this topic.
Thanks for reading. Please be so kind as to pass this story along to your friends and family?
Source:
"Mom sparks debate after piercing daughter's ears one day after she was born" Vt. Carina Murphy. June 12, 2022.