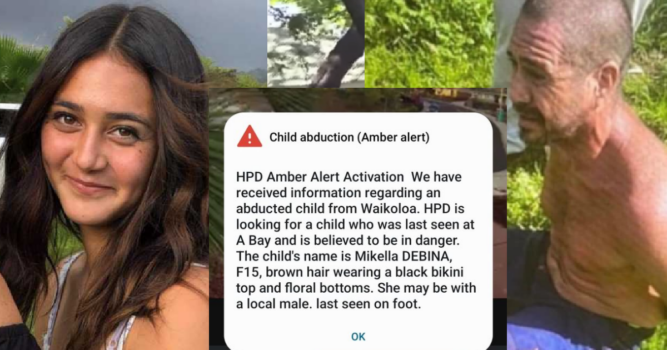 In Hilo, Hawaii, a missing 15-year-old girl was rescued in a dramatic scene by cafe workers. The incident occurred on a Saturday afternoon after the employees recognized the teen from an Amber Alert. Mikella DeBina, of Anaehoomalu Bay, was reported missing on Friday after she was reportedly abducted around 1:30 pm, near Waikoloa Beach Drive, reports News Now.
The Amber Alert was issued for the teen that night while police officers searched nearby areas for signs of the teen. Several witnesses said Mikella was seen with 52-year-old Duncan Mahi, her alleged abductor, at Cafe Pesto in Downtown Hilo.
The Restaurant's Host Felt Something Wasn't Right
Restaurant host Bridge Hartman later told Hawaii News Now that he believed something wasn't right after witnessing a tense altercation between the older man and Mikella.
"Something is off," Hartman said. "Even if it wasn't her, my brain was like, 'I need to get her.'"
He recalled how the teen and the suspect approached the host stand twice for a table. After they walked away, Hartman noticed them arguing.
The Amber Alert
After the two began arguing, Hartman said he recognized Mikella from the Amber Alert sent out to the public on Friday.
It's reported that Mikella was abducted at knifepoint from a secluded beach where she'd been with her aunt and boyfriend.
"And I realize then they started tussling. I was like, 'Wait, what's happening?' It just wasn't connecting," he told Hawaii News Now. "Then, I realized it was her. And I yelled out, 'That's the girl. That's the Amber Alert girl.'"
Once the suspect released the teen, she began crying, and Hartman rushed to her aid.
"She got away from him like just for like a brief moment," he explained. "And I was able to grab her in time. And I rushed her into into our back of our restaurant." At the time, Hartman said the man claimed the girl was his daughter.
Diners Saw It All Unfold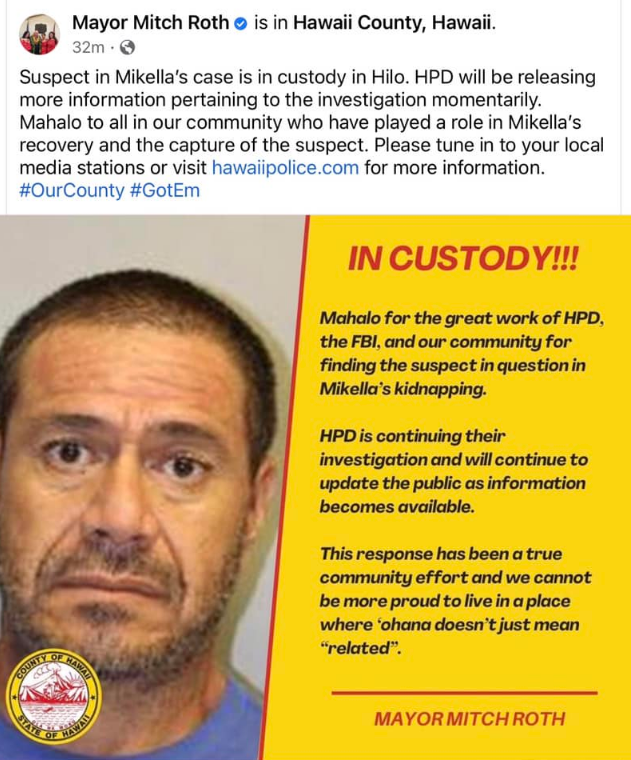 Kori Takaki, a patron at the cafe, and her mom were eating at Cafe Pesto when they saw the altercation. Takaki also noticed something was off because the teen was wearing strange clothing.
"When I looked at her, it looked like a man and a woman fighting," said Takaki to Hawaii News Now. "But she was wearing men's clothing and I thought, 'That's strange. She doesn't look like she's wearing her own clothes.'"
Takaki stepped in to help the girl when Harman took her away from the alleged kidnapper.
"She was saying, 'He kidnapped me, he kidnapped me. Thank you,'" Hartman recalled.
The Patron Stayed with Mikella Until the Police Arrived
The offers took the teen to Hilo Medical Center, where they contacted her mother.
"[Mikella's] with the Hilo police now," her mother, Cher Angelel told Khon2. "We saw her on Facetime. She smiled and waved. She's okay!"
Meanwhile, Mahi was arrested several hours after the incident, according to police. Angelel praised the good Samaritans at the restaurant who came to her daughter's aid.
"I'm just glad to be home and knowing everybody's safe," said Takaki. "It was quite the emotional day. Yeah, lots of emotions."
You can also watch a video below with more details on this story.
Thanks for reading. Please be so kind as to pass this story along to your friends and family?
Sources:
"Teen Reunited With Family After Cafe Workers in Hawaii Rescue Her from Alleged Kidnapper"