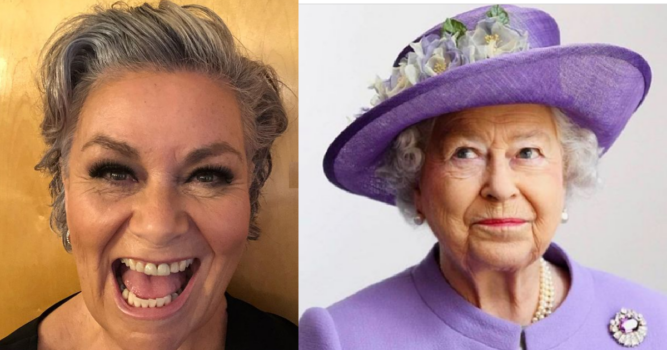 Dawn French admits that she was super-nervous the first time she met Queen Elizabeth II, stating that Her Majesty left her "falling and laughing at everything she said." The French and Saunders star talks about her awkward first encounter with England's Monarch.
In June, the Queen's Platinum Jubilee was celebrated over a four-day weekend, marking Her Majesty's 70-year reign. The royal extravaganza saw lots of vibrant street parties and a beautiful Platinum Jubilee Pageant with a live concert held at Buckingham Palace. A host of celebrities also came together to recognize the Queen's impact on the world during her historic reign.
The colorful and lively finale, which took place on Sunday, June 5, brought back iconic moments from Her Majesty's reign while showcasing how much England's changed over the past seven decades.
Ed Sheeran led the star-studded musical tribute to the Queen's glamorous Jubilee pageant, and the event also featured celebrities who were deemed "national treasures," such as Sir Cliff Richard, Alan Titchmarsh, and Gary Lineker.
Despite being famous celebrities, even some of the country's celebrity treasures were star-struck upon first meeting with Her Majesty the Queen.
Dawn French, author, and star of the Vicar of Dibley and French and Saunders, previously talked about the tremendous pressure one feels upon meeting Her Majesty.
During a 2008 appearance on the Graham Norton Show, she said:
"As she comes to where you are — the group where you are — for a start you have to tussle with that whole idea of: 'Will you curtsy, won't you curtsy?'

"And then immediately you do! Immediately, you curtsy far too much and too low."
She then recalled how the Queen asked the group if they were "enjoying the evening," their responses were accompanied by nervous, over-exaggerator laughter.
She revealed:
"Everyone does that! I think people are just nervous, eager to please or they don't want to be beheaded or something."

"So the Queen, I'm sure, must think that she's a great comedian or something because that's all she sees is people falling and laughing at everything she says.

"I was doing it! Why was I doing it?"
As it turns out, this wouldn't be the only royal blunder Dawn's made. In March, while speaking on the Graham Norton Show, French told the story of a cheeky remark she made to the Queen's son Prince Charles when she met the royal at a film premiere.
She explained:
"I was in the line-up to meet Prince Charles at the premiere of Narnia in which I played Mrs Beaver and when he asked me what I did in the film, I said: 'Tonight Your Royal Highness you will see my beaver.'

"I sort of smiled at him, he sort of twinkled at me and then moved on very quickly!"
Years earlier, French and her co-star, Jennifer Saunders, turned down an OBE from the Queen after admitting "it didn't feel right."
Saunders told The Guardian in 2011:
"We felt that we were being paid very well to have a lot of fun."

"It didn't seem right somehow. We didn't deserve a pat on the back."

"'It felt a bit fake to stand alongside people who devoted their lives to truly worthy causes."
Saunders later said that after her father Robert received a CBE for his work as a Royal Airforce Pilot, she felt accepting the monarch's offer "made a mockery" of being given such a prestigious honor.
French and Saunders are not the only celebrities to either return or refuse honors for the royals; the list includes musicians such as David Bowe and John Lennon, actors such as Michael Sheen, Jim Broadbent, and celebrity chef Nigella Lawson.
Below, you can also watch a video featuring Dawn French recounting her hilarious meeting with Prince Charles.
Thanks for reading. Please be so kind as to pass this story along to your friends and family?
Sources:
"Dawn French's one request on meeting Queen Elizabeth II: 'Don't want to get beheaded!'" Express.Co.UK