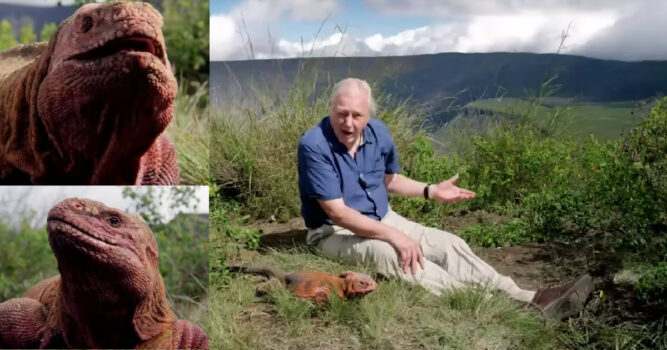 Galapagos Island, the volcanic archipelago located in the Pacific Ocean and a part of Ecuador, is a land filled with ancient mysteries and creatures that look like they belong in the prehistoric era.
The island is home to giant creatures, such as the giant tortoise, but it's also home to several species of giant iguanas.
And on the island, the genetically oldest species of giant iguanas is the gorgeous pink iguana.
Today, only 200 of these remarkable creatures are left in the world.
It was first sighted by National Park rangers back in 1986, and it was not until 2009 that the pink iguana had a specific classification for these reptiles as a separate species from the other land iguanas.
At first, they were simply passed off as a genetic oddity. However, after further genetic testing, scientists learned that the genetic divergence between these iguanas and their non-pink-hued cousins took place about 5.7 million years ago.
While similar in appearance to other land iguanas on Galapagos, sharing features such as powerful hind legs, sharp claws, and a short head, pink iguanas are mostly herbivores that feed off fruit and pear leaves.
Their only distinctive characteristic is their coloring which consists of pink with dark verticle stripes running along their body.
The pink color is mainly due to their lack of skin pigmentation, which allows you to see the blood underneath. In other words, their skin is nearly translucent like glass!
On a recent episode of Nature Bites, David Attenborough came across this amazing creature and took some time to study it.
"A scientific team went up to investigate. What they discovered astonished everybody – a completely new and unknown species of reptile – a pink iguana. Until now it was thought that the Galapagos possessed only three species of iguana, the black marine iguana that lives on the seashore and two species of yellow iguana that live in land feeding on cacti and other vegetation."
Check out the full video below to learn more about his interesting creature.
Thanks for reading. Please be so kind as to pass this story along to your friends and family?
Sources:
"David Attenborough Encounters a Giant Pink Iguana While Exploring the Galapagos Islands" Laughing Squid. Lori Dorn. July 19, 2022.