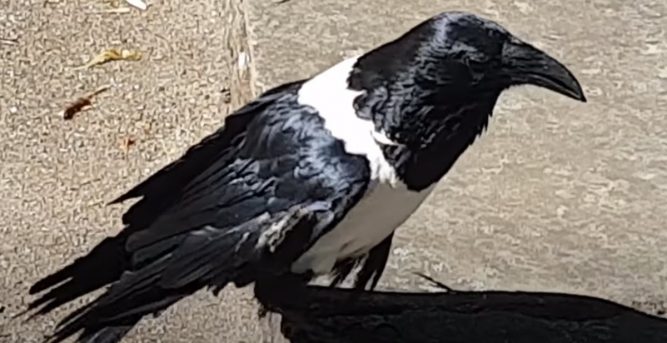 An African pied crow is a bird species that is usually described as a small crow-sized raven because it can hybridise with the dwarf raven, known in scientific circles as the Somali crow. this hybridisation occurs in the Horn of Africa where ranges of the two species meet. However, in terms of behaviour, the African pied crow is more typical of the Eurasian carrion crows. Some scientists think it may be, along with the Somali crow, a modern link between the common raven and the Eurasian crow. This is an interesting bird, indeed! In size, the pied crow is about the size of the European carrion crow or slightly larger.
One interesting thing about the pied crow is that it has a bill that proportionally larger. It also has longer legs and slightly longer wings and tail. As suggested by the name, the pied crow has a glossy black neck and head, with a large area of white feathering in between them. The feathering goes from the lower breast up to the shoulders. Also black are the bill, wings, and tail. This gorgeous crow has dark brown eyes and the white plumage of the more immature birds is sometimes mixed with black. The pied crow resembles the thick-billed ravens and the white-necked ravens, but it has a significantly smaller bill.
The history of the pied crow goes back a long way; it was first described by Statius Muller in 1776. One of the most unique things about this crow is its distinctive voice that many people describe as harsh. Because of its harsh voice, it's somewhat annoying, but unlike other black crows, the pied crow isn't considered to be a bird of ill-omen. The sassy bird in the video below lives at Knaresborough Castle in North Yorkshire, England. When Lisa and Mark Brooks were on an outing at the castle, they were surprised to run across this bird, whose name is Mourdour.
Mourdour likes to talk, but he says one thing repeatedly, and in a strong Yorkshire accent. Watch this hilarious video below.