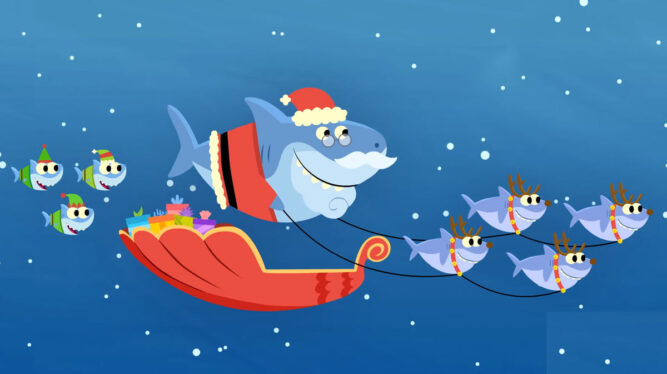 Until recently, I wasn't aware of the madness that is the Baby Shark song, which started as an animated music video. But, if you're familiar with it, then you probably know the part of the song that says "run away!" And since apparently being hunted down by a cute family of hunger sharks in a kiddie song is so popular, someone decided to bless sleep-deprived parents with a brand new Christmas-themed Baby Shark song. Oh, joy! Now, instead of chasing down people prey doo-doo-doo-doo-doo-doo, these sharks are now preoccupied with loading up and delivering Christmas presents.
This new song was created by Super Simple Songs and not PinkFong, the originators of the first Baby Shark song and video. If you compare the two songs, the holiday song has a slower pace and is a bit less hyper, giving adult listeners still dizzy from the PinkFong version a bit of a break.
Baby Shark has not only become a YouTube sensation, but a global phenomenon, bringing forth a line of clothes, toys, and endless cheesy gifts. Kids will absolutely love this tune and shoot it up the YouTube ranks in no time.
Viewers can sit back and enjoy watching Santa Shark swim to the rhythmic chant of "ho ho ho ho ho ho" along with his merry band of reindeer and elf sharks. They even have little reindeer noses and elf ears too! We don't know if you're ready to hear this yet, maybe you need some of that special "eggnog" first, but if you are, prepare to rock along as the elf sharks make the toys for Santa to drop off to the slumbering sea creatures.
Now teachers, parents, and anyone else lucky enough to be in the vicinity can enjoy not one but two Baby Shark songs! Can you handle the excitement?
Please be sure to share the joy with your friends and family!
Source: Tip Hero