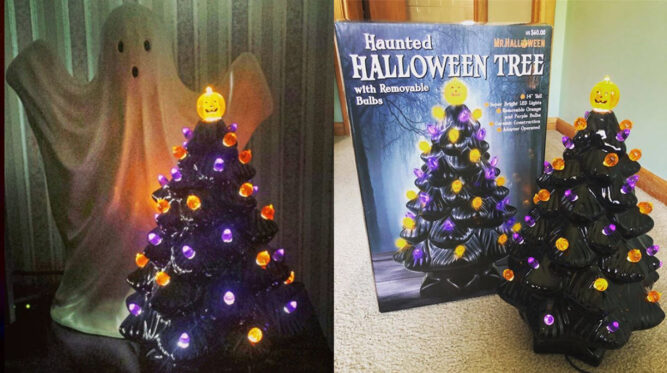 Does anyone remember those ceramic Christmas trees that nearly every mom and grandma had on an end table or mantle during the Christmas season? They were one of those special beacons of childhood nostalgia that become a best-selling must-have decor item last Holiday season. Well, the trees are back, only this time they've undergone a bit of a costume change to help us celebrate another holiday. Internet, allow us to introduce you to your new holiday decorating obsession: Halloween trees.
Michael's is currently flooded with online attention for selling an item that's a pretty close replica of the ceramic Christmas trees we all knew and loved as children. Except, this version is painted black and topped with an orange jack-o-lantern instead of a star, and, of course, it's light bulbs are orange and purple. The 14-inch tree is selling for around $60.
And check this tree out lit up! BRB, I'm literally driving to Michael's because they are totally sold out on their website.
Combined with some other spooky decorations, these trees mark the perfect way you can transition from the Halloween season to the Yuletide. With the Nightmare Before Christmas playing on repeat, obviously.
The trees make for the perfect combination of Christmas cheer and spooky spirit, and that's probably why you better hurry quickly to get one before their gone.
The version being sold at Michael's has already sold out online, and rumor has it stock is getting low in stores as well.
But if you're not lucky enough to get your mitts on one, don't despair. You've got options.
Amazon is selling a similar version, except it's topped with a spider (which only increases the creepiness factor by about 1,000 percent). Although, this may not be the best Halloween tree for arachnophobes (raising hand).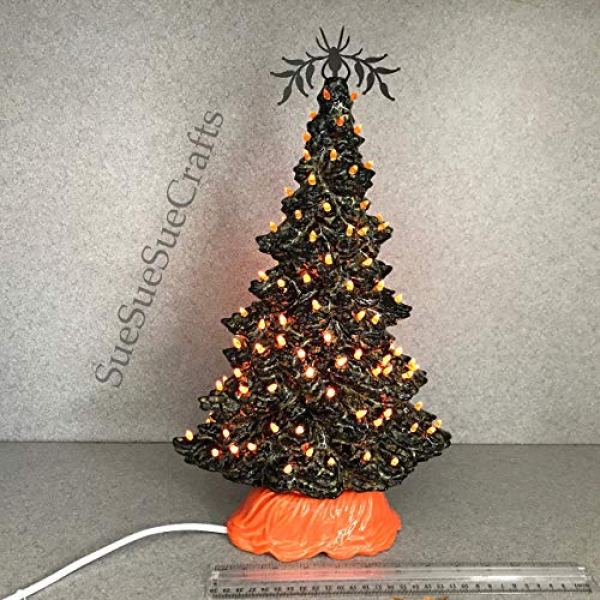 If the spider is a bit too creepy for you, then this Etsy version looks like it repurposed the exact ceramic base of the Christmas Tree, except it's painted black with orange bulbs and topped with an adorable Halloween bow covered in black cats and skeletons. How precious!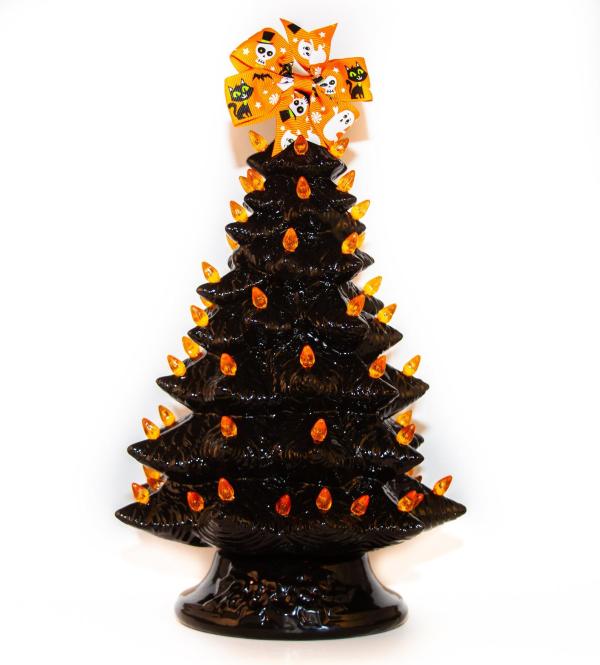 Or hey, you know, you could just get a real tree and transform it into your own giant Halloween tree. There's no shame in doing a little DIY decorating during the holidays!
Halloween Decoration Game: LEVEL 100
But, check out LEVEL 1,000
Please be sure to share this story with your friends and family.