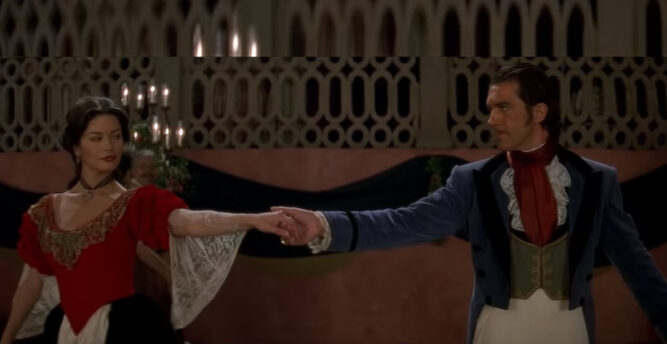 Growing up, I used to love watching old black and white Zorro reruns. There was just something so cool about the character, who may have been the first Spanish-American Action hero on TV. The premise involved university student named Don Diego de la Vega (Played by Guy Williams), who by day is a mild-mannered (kind-of wimpy) intellectual, and by night is a masked fencing vigilante known only as "Zorro." Throughout the show, Zorro fights against the forces of the corrupt Captain Monastario. If this plot sounds sort of familiar, you're not imaging things, as Bob Kane, the creator of Batman, admits that he was heavily influenced by the story of Zorro when creating his comic.
In 1998, Zorro saw a very promising rebirth with the release of The Mask of Zorro, starring Antonio Banderas, Catherine Zeta-Jones, and Anthony Hopkins. The movie departs from the show, as it takes place years after the events of Zorro. Hopkins plays Don Diego de la Vega, the original Zorro.  Vega has been in prison for the last 20 years while the evil governor, Rafael Montero, has raised his daughter as his own after her mom was killed in a scuffle between Monero and Vega. Jones plays Elena, Vega's long-lost daughter, who grows up to become a beautiful woman who greatly resembles her mother. When Montero and Elena move back to California, Vega decides to escape from prison and comes across Alejandro Murietta (played by Banderas), a thief who becomes the original Zorro's protégé. In this scene, Alejandro meets Elena, and of course, the two instantly fall for each other. The two are at a party, held by the evil ex-governor (her fake dad),, and Alejandro asks her to dance.
Personally, I think this dance scene is right up there with some of the best film couple dance scenes out there. The sexy, yet the light-hearted vibe is perfect for the Zorro universe and represents the material well without being too leaning too far one way or the other. And the chemistry between Jones and Banderas is off the charts!
Watch as Banderas and Jones heat up the night in the video below.