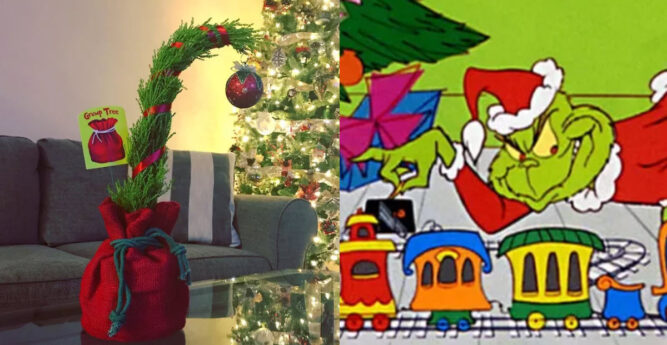 If you happen to live in an apartment, dorm, or simply don't have the room for a big Christmas tree in your home, we may have found the perfect, Grinchiest alternative to suit your festive needs. Trader Joe's is now selling mini Grinch-inspired Christmas trees that are going to make you want to start singing "Dahoo Dores" all season long because these little greenies are so darn cute! Each tree is perfectly slumped over, similar to the Grinch's signature "I-Hate-You-Whos" slouch. The gorgeous red ribbon wrapped around its branches and single weighted Christmas ornament hanging off the tip makes this tree the perfect festive addition for any space.
All you have to do is give it the right platform and sit back and admire it's lopsided lean. Also, if you want to get a bit more of a traditional-looking mini tree, simply remove the ornament, and the tree will straighten out. Officially called "Grump Trees," these adorable little furs are actually lemon cypress trees, which grows natively in California. According to PopSugar, each tree will retain its cone-like shape until it reaches full maturity, which by then could see it grow to up to 30 feet tall! And the best part? Once Christmas is said and done, you can take your Grinchy tree and plant it in your garden during early spring or fall to watch it grow three sizes, just like our favorite Grinch's heart! Disclaimer: They'll likely grow more than that, we're just trying to keep with the theme here.
These Grinch Trees will cost you about $8 or $9 at your local Trader Joe's, depending on the location.
At those prices, you could even pick up a few extra trees.
Maybe stick one in the office to give it that much-needed Grinchy makeover?
Or maybe decorate your entire house with them, so every room is as Grinched out as possible!
Plus, with all your Secret Santa activities and holiday parties coming up, we think this would make a pretty adorable gift for that special Dr. Seuss fan in your life.
Source: Craft Diply