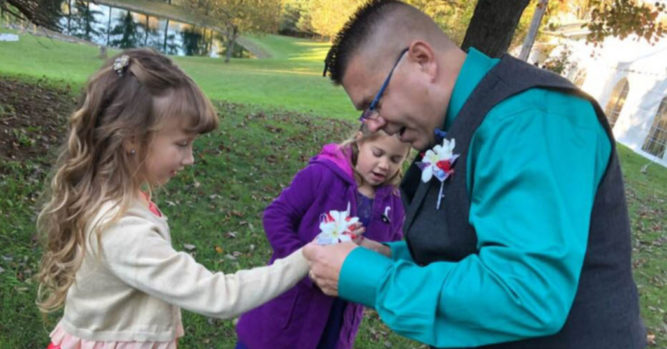 It is difficult when you lose a loved one in life and many of us have felt the sting of death, sometimes on multiple occasions. It can leave you feeling numb and somewhat empty, but there are times when somebody steps up to the plate and makes you feel a little bit better. That was what recently happened after a father passed away in Davison, Michigan. He left behind a wife and five children and the community stepped up to the plate and did what they could to help the family cope.
In September, Luke Reece was admitted to the hospital but his health quickly went downhill. By the time September 19 rolled around, he had severe complications associated with blood clots and he passed away. The family was struggling to cover medical and funeral expenses so a local restaurant, along with a GoFundMe account was established to help them. Some of the support that they received, however, didn't come in the form of money.
A teacher that had formerly taught two of his daughters knew that they were going through a very difficult time. His name is Steven Colbert and he was there for the family from the time that Luke went into the hospital early in September.
In fact, he had visited the hospital on numerous occasions, and it was shared by Sally, Luke's wife on a Facebook post.
"He has always been a teacher and role model children could look up to, he goes above and beyond for all his students," she said of the caring teacher.
Luke was in the hospital during the time that the school was planning a daddy-daughter dance. Mr. Culbert didn't want Avery and Alivia to miss out on the dance so he asked them if they would join him for the evening.
Unfortunately, their father died four weeks prior to the dance taking place but the invitation stood. In fact, many people from the community pitched in to make sure that the evening was as good as it could be.
The girls were bought new dresses by friends and corsages were purchased for all four girls and a boutonniere for Mr. Culbert. They were also treated to a day at the local salon before the dance.
"It felt like as if I was a Barbie Doll," Avery told a local news station.
Before they left for the dance that evening, they honored their father who couldn't be with them on that night. A number of balloons were released with the phrase '#BeLikeLuke' attached to them.
A limo surprised the girls so that they could go to the dance in style. All of the girls were 'tickled and excited' with the transportation.
The girls were then taken out to ice cream after the evening of dancing and fun. They didn't have anything bad to say about the evening but they did say that their former teacher could use some help with his dancing abilities.
Shelley was especially taken over the love shown to their family that evening. She wrote:
"There are not enough words to express my gratitude to this humble giving teacher and friend and everyone involved to make this a night to remember. He has wrapped his arms around my girls and made sure they know he is there for them since Lukes passing."
Mr. Culbert said that the evening was his way of showing his former students that he believed in them. In his words, "They are important to me just like my own family is and I want them to trust me, and I want them to believe in me the same way I believe in them and trust them."
It's amazing when a community rallies around a family that really needs support during such a difficult time. Everyone who contributed to that night should be proud of what they did for those who needed it.