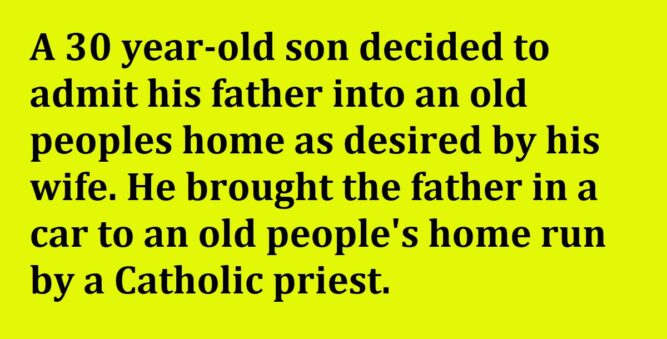 My parents are elderly and I worry constantly about whether or not they've prepared for their retirement and old age. The fact is, it's impossible to prepare for every eventuality unless we're very wealthy, but as a son, I do still worry. What's the best way to prepare? It seems that there are some old tried and true techniques, but I'm not sure if any of them are foolproof. One thing that I believe is that family has to stick together, through good and bad times. It's a good idea to remember that what defines you will be how you behave in tough circumstances and how you treat those more vulnerable than yourself. Enjoy the story below.
A 30 year-old son decided to admit his father into an old peoples home as desired by his wife. He brought the father in a car to an old people's home run by a Catholic priest.
Then appeared this elderly priest, who came out to have a long chat with the old man. The son wondered and asked the priest whether he knew his father before, since they were talking as though they knew each other.
The priest replied yes, and continued, "He came here 30 years back and took with him a very sick orphan boy who everyone else had rejected for adoption. This man gave that boy home and save his life. He told us this little boy deserves better, I'll dedicate my life to make him the wealthiest young man when he turns 25.
The priest continued, "I don't know how long you have known him but I can tell you he is a good man and I am glad to inform you that you were the sick boy. The boy on hearing this fell on his knees and begged the old man for forgiveness.
The old man looked at him with a smile and said, "Son I have forgiven you. You threw me out of my own home because of your wife. Take the house, but know that I have removed you from my documents as the sole heir of my empire. I have willed all my properties to this orphanage where I now belong."
At the zenith of your success don't forget where you are coming from, if not you will miss your destination and lose your Crown. I pray we will not forget those who helped us to get to the top.