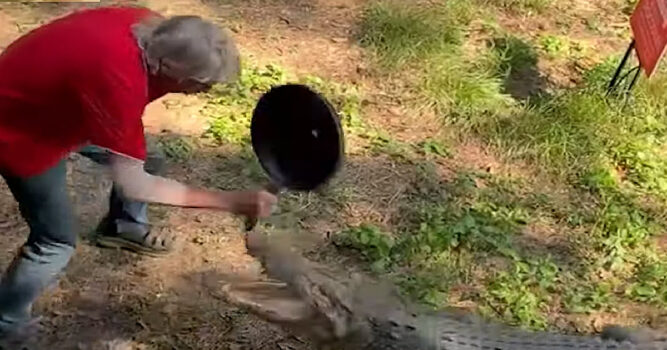 A pub owner in Australia has gone viral after a video captured his special security measures when dealing with a particular type of unwanted guest.
The fearless business owner is a bit of a local legend around the Nothern Territory, as folks call him "King" Kai Hansen.
Incredibly, the older man was unruffled when an 8-foot-long crocodile began hanging out around his Goat Island Lodge. But, instead of turning and fleeing in terror, the white-haired older man faced down the charging crocodile with his weapon of choice at the ready — a larger frying pan.
After receiving a few choices smacks on its head, the hungry croc quickly got the message.
It canceled its lunch reservations and turned away from the disagreeable meal.
As it left, one could almost hear the frustrated reptile promising to leave a negative review on Yelp.
The crazy moment was captured on camera and quickly started racking up views across social media. While the footage is pretty shocking, Hansen told the Daily Mail Australia that fighting off the toothy reptiles is par for his course.
"I wouldn't say it's an everyday event, but I've got to stay safe and do what I can," he said.

"When you're driving along in a car and all of a sudden a dog is right in front of you, are you scared, no, you just do what you have to do," the publican continued, adding that in this scenario it all worked out alright. "No one got hurt and the croc got a good lesson."
Hansen also recalled a few of his earlier battles with his crocodile neighbors, known to lurk around the area. In 2018, Hansen's beloved pup Dumb Blonde was eaten by a crocodile that's said to have measured nearly 10-feet-long.
While doing battle with dangerous reptiles may be all in for "the King," many on social media were floored by the footage and flooded the comments section to voice their amazement.
"Who's crazier? The old man for hitting the gator with a frying pan, or the gator for messing with the old man?" one person tweeted.
Others were quick to point out how bizarre stuff like this only happens in Australia.
You can watch the full video below.
Thanks for reading. Please be so kind as to pass this story along to your friends and family?
Source:
"Man fights off huge crocodile with a frying pan" Vt. Carina Murphy. June 21, 2022.