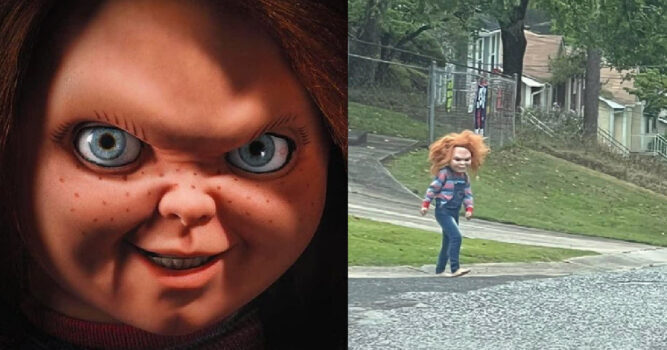 A woman's post received some unexpected viral success after she captured pictures of a child prowling the neighborhood in a Chucky costume.
And while seeing people wearing costumes on Halloween isn't a big deal, people tend to see it a bit differently when it's any other day of the year. And sure, there are times when there's a good reason, such as a themed party or to prank someone.
However, as the infamous 2016 clown outbreak taught us, there are times when people just get a kick out of freaking everyone out.
And while it's perfectly understandable when it's an adult pulling the prank, things get a bit more embarrassing when the one behind making you hide under the bed is a child.
However, one Alabama neighborhood experienced such a situation, and an amused woman captured a few pictures of the entire unsettling scene.
On July 13, Kenda Walden, a resident of Albertville, Alabama, was traveling home after remodeling a house.
As she told Today, she and the other two women she was working with saw something odd when they were driving.
Since most of us never expect to see Chucky from Child's Play prowling around a sleepy suburb, it took Walden a minute to figure out she didn't imagine it.
But as she said,
"When we got closer to him we saw that it was real. It scared the heck out of us."
The horrifying sight compelled her to share the images on Facebook along with what she saw with a caption reading:
 "Dear Parents of the little boy in the chucky costume in Pinson. GET YOUR KID.… I almost had a heart attack."
Indeed, this kid probably scarred quite a few people, but the ladies were also curious enough to circle back around. And there was just a brief moment when the child did remove the mask. However, for the most part, he was fully committed to his role.
While she only expected the post to be seen by a couple of friends, Walden's post has since attracted 51,000 likes, 16,000 comments, and 105,000 shares.
And most of the comments found the entire situation as hilarious as she did, especially the shot of Chucky flipping his hair like he's in a shampoo commercial!
For her part, Walden was simply glad to be traveling with her coworkers and not her brother.
"My brother Zack, who is a Marine, was working on this house the day before. His biggest fear in the entire world is Chucky so he would have died on the spot."
However, there were some viewers who didn't quite get the joke and took the opportunity to parent shame.
"Some others have posted really rude things regarding him crossing the street alone and so forth. He did cross the street alone, but he looked both ways and made sure we were stopped before crossing."
Such comments seemed to prove no matter what you do; there's always someone who will find an objection or way to spoil the fun.
"It's sad to see so many people come at his mother for allowing her child to have some fun — with his grandmother close by watching it all. I wish everyone would be more positive."
You can also find out who the child behind the mask was in the video below.
Thanks for reading. Please be so kind as to pass this story along to your friends and family?
Sources:
"Little Boy In Chucky Costume Accidentally Terrorizes Neighborhood In Hilarious Pics" Crafty.Diply. Mason Joseph Zimmer. July 26, 2022.