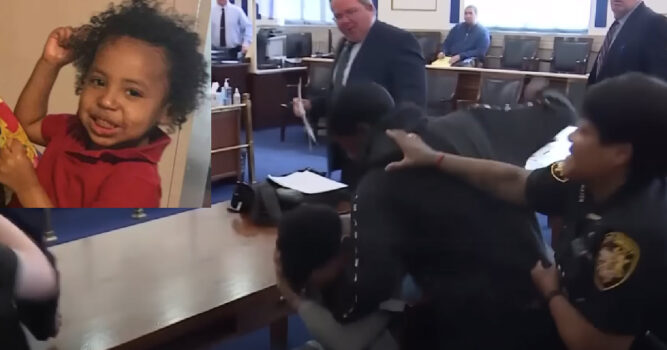 The biological dad of missing Ohio three-year-old Nylo Lattimore violently assaulted the suspect accused of murdering his little boy.
Fox 13 reports that court footage shows the moment Tonio Hughes hurled himself at 22-year-old Desean Brown during the suspect's pretrial court hearing.
Brown stands accused of murdering three-year-old Nylo and disposing of his body in the Ohio River in December 2020. He's also accused of fatally stabbing Nylo's mom, Nyteisha Lattimore.
While Nylo's body was never found, prosecutors revealed that the baby's stroller was discovered in the river along with a Paw Patrol blanket saturated with the child's blood found near Nyteisha's body.
On Thursday, June 23, several cameras captured the moment Hughes approached the alleged murderer and charged Brown, who was handcuffed and seated at the defense table. Hughes landed multiple punches before he was overtaken by deputies.
Officers tackled the grieving dad to the floor and handcuffed him before taking him into custody.
Faith Burton, a friend of Hughes, later told Fox18: Everything inside [Hughes], just the pain and everything took over."
"He did what I think any of us would do," she said, adding that his heartbreak is only being made worse by the fact that the father has no place to mourn his son.
Burton described the father as being "on the edge" and "on the verge," adding:
"I couldn't live without my child either, you know? So I get his emotions, I get why he acted out in court."
Judge Megan Shanahan later found Hughes in contempt of court and sentenced him to seven days at the Hamilton County Justice Center.
Woods later said that the behavior the father displayed in court would "not be tolerated" under any circumstances.
Hamilton County Prosecutor Joe Deter says that Nyteisha was murdered on December 5, 2020, and her body was found a week later close to the Purple People Bridge. He added that the mother's body was stored in her Walnut Hills apartment for five days before the suspect disposed of it.
Deter also alleges that Brown bought a body bag from eBay before booking an Uber to transport him to the Ohio River. The suspect allegedly told the driver the bag only contained clothing and that he was moving out of the apartment.
After the mother's body was discovered, officers say that Jamecia Cobb, one of Nyteisha's friends, told them that she was pregnant with Brown's baby before she suffered a miscarriage.
On June 17, Cincinnati police specialist Kimberly Kelly testified:
"Mr. Brown had told Jameica Cobb that he was very upset and that since she killed their baby, he was going to do something to her baby Nylo"
With the possibility of a death sentence, Brown is currently being held without bail at the same justice center holding Hughes.
You can watch footage of the emotional attack below.
Thanks for reading. Please be sure to pass this story along to your friends and family?
Sources:
"Man accused of killing 3-year-old is attacked by the boy's father in court" Vt.