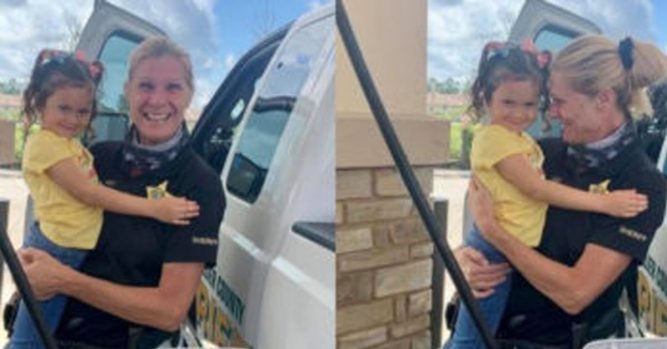 Police officers have a job that is unlike many others. They may have days that are perfectly normal without much going on, but it can be interrupted at any time with some of the most unexpected events. Even though that is the case, they are out there every day doing their jobs and trying to help those in the community.
Most police officers tend to focus on what is taking place at the current time but every once in a while, they are given a glimpse into their past. That is what happened in Collier County, Florida, when one police officer had something from her past show up in a wonderful way.
It took place when Corporal Sherry Rego was at a gas station and a young girl ran over to her to give her a hug. It would've been nice, even if it was random but this little girl had met Rego before, and it wasn't under pleasant circumstances.
Rego shared the story on her Facebook page and the Sheriff's office passed it along.
"Cpl. Sherry Rego describes today as the best day of her entire year," the Collier County Sheriff's Office shared on Sept. 25.
"She was crying happy tears a minute ago when we called and asked permission to share this beautiful post from her personal facebook page."
"Today God reminded me why I do what I do!" Rego had written. "While pumping gas this beautiful girl came to my truck… tears rolled in my eyes as I looked at her, her parents and big brother…
"Her mom said to her do you remember your angel, why did she say this? Because just over 3 years ago I was giving her lifeless daughter CPR. She was almost two and today she proudly shared she is five and on her way to Disney!
"This was such a blessed reminder why I do the job I do, and beyond grateful to the amazing agency I work for that believes in top notch training for their deputies and equipment to do our everyday tasks."
"Enjoy your Disney weekend pretty girl, you left my heart so full today."
You can see the little girl smiling from ear-to-ear as the police officer holds her. It's a moment that meant a lot to Rego and reminded her of why she was doing what she does.
The story has been shared thousands of times and many people have reacted positively to it.