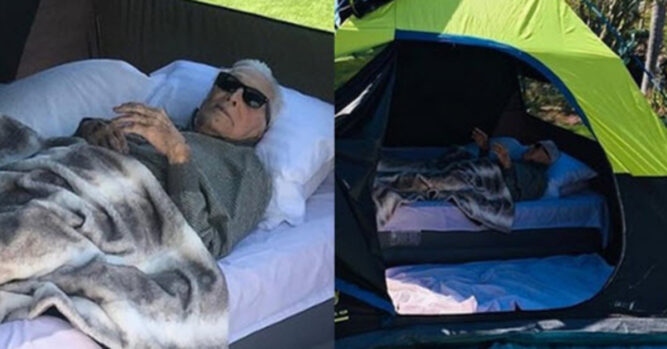 We often hear it said that you are only as old as you feel. The problem is, most of us begin feeling as if we are about 10 or 20 years older than our age actually says. By the time we reach our mid-30s, we begin complaining about little aches and pains that seem to be showing up regularly. When we reach our 50s, those aches and pains become more of a reality and we may even find that we are slowing down in life.
Most people who have reached that time in life experience such difficulties. For Kirk Douglas, however, he has been through that time of his life and is seeing the other side. The actor is 102 years old and he still enjoys getting outdoors and camping. It was posted by his grandson on Instagram when the star was inside of the tent and enjoying life on an air mattress. His 40-year-old grandson captioned the picture: "This amazing man, my Pappy, is such inspiration in so many ways! Going camping at 102! #Spartacus#thrunthru 📸@Lisa."
Kirk Douglas Goes Camping at 102! https://t.co/poVWtNcqVC

— TMZ (@TMZ) April 13, 2019
The picture shows him in a blue and green tent living life in a backyard. The tent looks quite comfortable because it is filled with pillows. It is even put up next to a beautiful pool but the picture is now hidden from Instagram.
Kirk Douglas is known for many movies, including Spartacus, Paths of Glory and others. He may be a big star but he also comes from small beginnings, as the son of Jewish immigrants. Before becoming an actor he helped his family by selling snacks and working as a paperboy.
He was very young when he fell in love with acting. A scholarship to the American Academy of dramatic's arts was offered. He decided to go to Broadway and found the part playing a telegraph boy in Spring Again. He then hit the silver screen in 1946 and has been going ever since.
Even though he is now 102 years old, he is still going strong and doesn't plan on stopping. His son Michael Douglas, who is 74 talked about his dad and how he now loves FaceTime. "He's amazing. He's discovered FaceTime. He just loves it."
In an interview, he said that Kirk is focused on fitness, even though he is older. "He still has a trainer. He works out with a trainer at 101. I remember when Dad was 90 and he had a guy that he worked out with for more than 30 years, 40 years, Mike Abrams. I went to see Dad one day, he was 90 and wasn't feeling so good. I said, 'Dad, what's wrong? You don't look good.' He said, ' Ah, Mike died.' I said, 'Ah Dad I'm so sorry, Mike died? How old was Mike, Dad?' '94'."