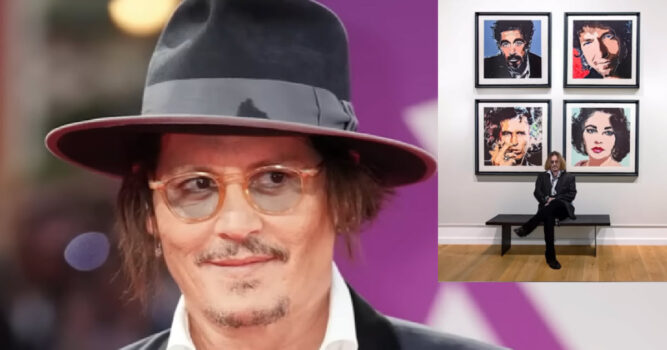 Johnny Depp's gone fortune continues as he's managed to sell off every piece of his debut artwork collection within just hours, making about £3 million ($3.6 million).
On Thursday, the Pirates of the Caribbean star announced on Instagram that he was selling his art at Castle Fine Art's 37 galleries, headquarters in Birmingham, England.
The actor's announcement created quite a stir, causing the gallery's website to crash briefly due to the sudden influx of new traffic, reports Sky News.
Depp's art collection, titled "Friends and Hereos," contains the pop-art portrait of four celebrities who inspired him: Rolling Stones Guitarist Keith Richards, Actor Al Pocino, Singer Bob Dylan, and Actress Elizabeth Taylor, says the gallery's website.
The BBC reports that Depp sold 780 pieces within only hours of his announcement, with the four main pictures selling for about £14,950 ($18,000) each.
In a statement shared by the gallery, Depp said:
"I've always used art to express my feelings and to reflect on those who matter most to me, like my family, friends, and people I admire. My paintings surround my life, but I kept them to myself and limited myself. No one should ever limit."
You can also watch a video about this story below.
Thanks for reading. Please be so kind as to pass this story along to your friends and family?
Sources:
"Johnny Depp Made $3.6m Within Hours Selling His Artwork" 9Gag.