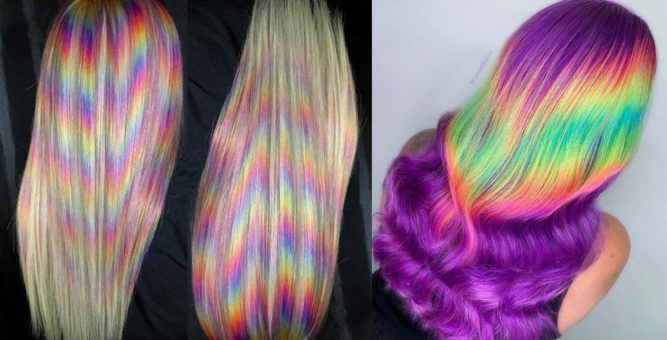 A few years ago, my wife showed me a video of a woman with long hair. The lady's hair was long and brown, but when she turned and twirled, her hair removed and revealed a beautiful rainbow underneath. My wife was enthralled and I thought it was pretty dang cool, too. My wife has long hair, too, and I asked her if she'd like to have her hair done like that. As for me, I think my wife is beautiful regardless of how she styles her hair, but I do know that she enjoys it when she has a new style. However, I wasn't surprised when she said that she would love to have the rainbow hair but that she'd not like to spend the money on it or sit in the chair for hours to have it done.
Her response didn't surprise me. She enjoys a spontaneous and fun look, but she's also practical to a fault and she'd see it as a waste of money. However, there's a new hair trend that's just in for 2020 and I think it's amazing enough to change even my wife's mind about going to the salon. I'd like to introduce you to holographic hair. I don't have hair, but if I did, I might be tempted for a minute (but just for one minute) to have this done myself. The reason is that it reminds me of my childhood love of collectible cards with holograms on them. Yeah, no this style isn't for a bald guy, but if you've got hair, go for it.
Colorful unicorn hair has been around for a while, and other hair trends of recent years have included Milk Tea hair, Nordic White hair, and even Mushroom Blonde hair. However, hologram hair is like nothing we've ever seen before. Some are calling it a "fairidescent" hair trend, a play on the word "iridescent." Experts in the beauty industry are predicting that this is going to be 2020's hottest go-to look for folks who like to stay on top of trendy hairstyles and coloring techniques. For example, Chiala Marvici, a colorist for the haircare company Redken, said that the hot new look is achieved through a revolutionary hair-coloring technique known as Hand-Pressed Coloring.
In an interview with Modern Salon, Marcivi said that the technique results in multi-dimensional and multi-tonal effects, and also diffused patterns. She said that this new look gives you the option to create either soft or strong results.
A technique that was first introduced in 2015, Marvici said back then that the technique had a lot of room to evolve, and she was right.
"Everything has to evolve at some point and Hand-Pressed Color is a new approach to color application. The application time is less than traditional color applications like foils and Balayage, so it saves time in the salon for both the colorist and the client."
Popsugar says that the hologram technique is achieved when the stylist paints different patterns onto a sheet of Plexiglas using dye. Then, a section of hair is placed onto the Plexiglas, which transfers the dye to the customer's hair.
Then, the stylist repeats the process on all of the sections of the hair, or even repeatedly onto the same section if the goal is to increase the color's intensity. Keep in mind that the rainbow shades only look holographic if the customer already has blonde or gray hair. That's something good to know before booking your appointment.
Social media, especially Instagram, is going crazy over this look and people are sharing their styles and delighting the people who follow them. There's no doubt that this look is one of the most revolutionary looks we've ever seen. And hey, I showed it to my wife and her eyes lit up. I guess we'll see if she takes the leap. She has my full support.