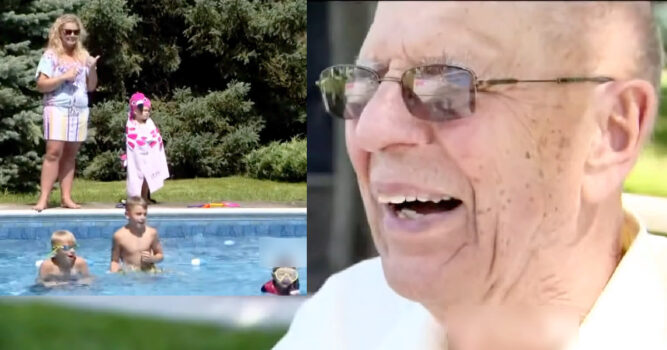 The grief and loneliness from losing a spouse who was your lifelong friend, partner, and lover can be overwhelming for many who feel lost without their soulmates. However, one man in Minnesota found a unique way to work through his grief after losing his wife, allowing him to feel happiness again.
Keith Davison is a retired judge who lost his wife of 66 years. With all of his kids growing and living lives on their own, he felt all alone living by himself in their big house. What he needed was something productive to occupy his time and bring him a bit of joy.
Judge Davison is a well-known figure in his community of Morris. He has always been very kind and friendly and got on well with his neighbors. In 2017, the 94-year-old retired judge came up with a great idea that not only would spark a little light in his life but bring some positive fun to his community. While they had children, Davison and his wife never got around to installing that swimming pool they always wanted. So, that's when Davison decided it was time to make good on those long-forgotten plans and finally build a backyard swimming pool.
Construction on the heated pool started in the spring of 2017 and was finished by July.
Being a man of the law, the judge decided first to lay out the ground rules for behavior to keep the kids safe. And today, Davison fills his days listening to the laughter and play of neighborhood children as they splash and play in their brand new community pool right in his backyard.
 "There's a lot of noise and splashing about, and that's good," he said.
The pool has also brought Davison closer relationships with his neighbors, who appreciate his heartfelt gesture.
During an interview, Davison could not stop laughing and smiling while watching his neighbors having fun in his in-ground pool. Everyone had the time of their lives, and it filled his heart with the utmost joy.
Neighbor Jessica Huebner spoke about how the judge never had any grandkids of his own, but she reassured him that the neighborhood kids would undoubtedly be happy to serve as his adoptive grandkids, news that made the older man very happy.
The reaction to his story online shows that people are equally touched. One person said, "This man is a gem of a human. The world needs more people exactly like him. What a wonderful thing to do!!!"
Others said that they hoped people would be willing to do something nice in return or potentially even perform their own random act of kindness. One person said, "I love this and hope the neighborhood gives back to him by making sure he feels included when the long Minnesota winter sets in." Another person said, "If anyone who reads this lives near Judge Davison and uses his pool… consider 'paying it forward,' in a way – invite Judge Davison over for dinner. Spend some time with him."
You can watch a video about this story below.
Thanks for reading. Please be so kind as to pass this story along to your friends and family?
Sources:
"Grief-Stricken Widower Installs Swimming Pool For Neighborhood Kids To Use" Apost.