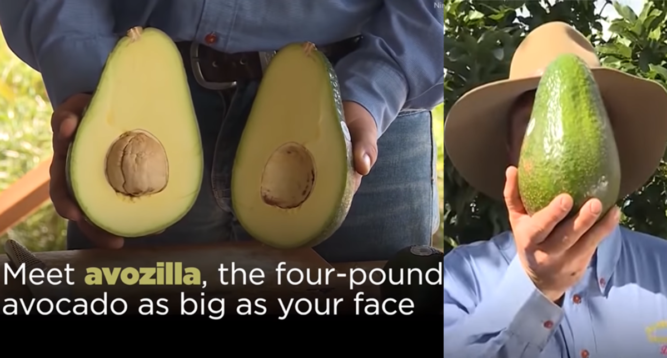 It's hard to find anyone who doesn't love avocados, and what's not to love? You can spread them on just about anything from eggs to salads, even morning toast. And we haven't even gotten into guacamole, which a lot of folks are really passionate about!
This fruit has as much if not more versatility than perhaps even tomatoes.
Avocados are also a wonderful source of vitamins E, K, C, and B-6. It also has niacin, riboflavin, folate, pantothenic acid, potassium, and magnesium. Aside from that, this fruit may also provide beta-carotene, lutein, as well as a host of omega-3 fatty acids. This is awesome for those on a diet because most of its calories come from fat.
However, have you ever wished that avocados were bigger? Because sometimes just one avocado just isn't enough. If that's what you're looking for, then you'll be glad to know that someone is growing them!
The avocado is an evergreen tree which resides in the Lauraceae family. Farmers who grow them must certainly earn a lot from growing this delicious fruit. But did you know that in Australia you can probably find the biggest avocados in the world?
They call them the "Avozillas!"
These avozillas have an average weight of around 3 pounds but can weigh as much as 4 pounds! This means they are four times the size of a normal avocado. They cost about $9 each. The Guardian Australia revealed that this avozillas taste just like any other avocados. The only difference is that they are just a bit softer compared to regular ones (which is a good thing as you always want the softest avocados anyway). These avozillas are the love child of the West Indian and Guatemalan variety.
Initially, these gigantic avocados come from South Africa. However, there is a farming family out in Queensland who are growing them.
Farmer David Groves and his families grow these delicious green monster avocados. Groves said:
"They're massive fruit… quite a lot larger than your average avocado." He added, "There is a nursery we buy different trees off and when we were planting a bunch of avocados 10 years ago they gave us one as a trial.
And after about four or five years, we tried a few of the fruit and thought we'd give them a go. So we planted a small block of about just under 400 trees. They're coming up to about four years and this is their first production."
The family has a total of 400 avocado trees while there are 2,000 more planted by other farmers in Bundaberg. The farmers are confident that these massive avocados will be making headlines as soon as they become available on the market. And while they are sure to be a big hit, these fruits have yet to hit grocers because right now the supply can't meet the estimated demand.
So for now, you can only find avozillas in specialty stores in Adelaide, Perth, and Sydney.
Also, Groves reassures avocado lovers that the increase in size does not mean a compromise in the fruit's flavor or creaminess. He said, "I'm pleased to say they're just as buttery as a Shepard or a Hass. Keep buying avocados, they're very healthy and very tasty."
Avocado instantly became a global hit a few years ago. This is why these giant avocados are sure to be the next "big thing." Groves is hoping that people will continue to support the avocado industry, whether they buy regular-sized avocados or avozillas.
Something tells us that he has nothing to worry about!
What do you think of avozillas? Would you buy them? What kind of meals could you make with these huge avocados?
Let us know in the comments section, and please be sure to share this story with your friends and family.
Source: Jumble Joy