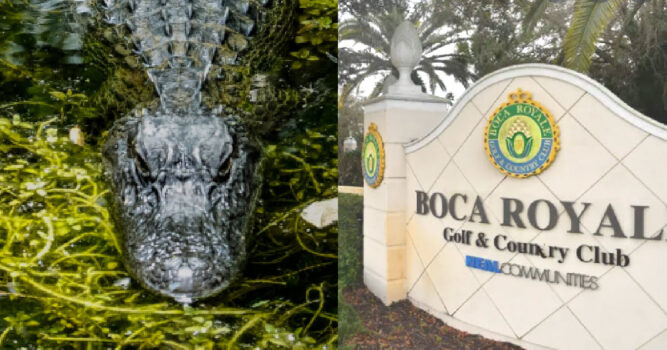 An older woman was brutally killed in a horrific alligator attack at a Florida country club and golf resort.
ABC News reports the incident occurred just before 8 pm on Friday, July 15, 2022, at the Boca Royale Golf and Country Club in Englewood, Florida.
The Sarasota County Sheriff's Office reports that the woman was a local resident who lived near the golf course and, after falling into the pond, "struggled to stay afloat."
At that point, she was attacked by two alligators. Police explained in a statement:
"While in the water two alligators were observed near the victim and ultimately grabbed her while in the water."
The woman was late pronounced dead at the scene, and her identity has yet to be released by authorities.
As part of their investigation, the sheriff's office says an alligator trapper was sent from the Florida Fish and Wildlife Conservation Commission and extracted the two alligators from the property's pond.
The two alligators retrieved from the resort measured 7-foot-7-inches and 8-foot-70 inches, according to the Florida Fish and Wildlife Conservation Commission. The agency hasn't confirmed whether those were the two alligators responsible for the woman's death, but no other animals have been removed from that pond at this time.
While fatal alligator attacks are a rare occurrence, this incident occurred only weeks after Sean McGuinness's body was discovered in a park in Largo, Florida. The Independent reports the 47-year-old's body was missing three of his limbs when discovered at the lake.
Officials believe that a single alligator attacked the man after attempting to retrieve a frisbee.
For more on this story, you can also watch the video below.
Thanks for reading. Please be so kind as to pass this story along to your friends and family?
Sources:
"Florida woman killed by alligators after falling into country club pond" Vt. Stefan Armitage. July 17, 2022.