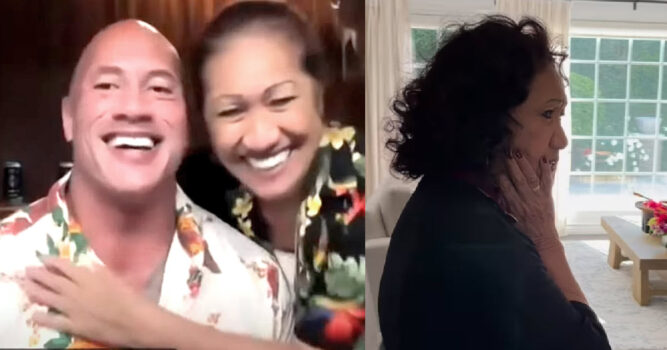 To most people, Dwayne Johnson, better known as "The Rock," is one of the highest-paid actors and among the most successful professional wrestlers in the world. Looking at his life today, it would seem as though he was always destined for greatness.
View this post on Instagram
However, if you ask him, he'll tell you about some very difficult times in his life that saw him nearly destitute and near the end of his rope. As a teen and young adult, he'd been down some very hard roads.
View this post on Instagram
But, through it all, he'd always had one woman in his corner cheering him on, even when it seemed the world was rooting against him. Watching his mom work so hard and struggle their entire life gave The Rock a whole new appreciation for the women in his life. In a 2o2o interview with Access, the actor talked about what it was like to be there for all his daughters' births:
"I was right there — I'm that dad. My wife's head is up there, and I'm right here (like), 'Let me see the baby.'"
The Rock went even further, discussing the strength women have during childbirth.
"There's this unique estrogenic reserve that only women have when they dig deep through this pain, and it is incredible to see. And it reminds me, 'Oh, of course, this is why women have babies and men don't!'"
In March 2022, Johnson sat down with ABC News and talked about how grateful he was to be surrounded by so many strong women in his life.
 "I am blessed with being surrounded by all estrogen," he said. "I'm the only dude in the house, me and the dog."
View this post on Instagram
The woman who started it all is Ata Johnson, also known as The Rock's mom.
On June 4 and June 5, 2022, The Rock uploaded a series of videos showing his latest surprise for his mom. Over the years, since his success in the WWE, The Rock had bought several homes for his parents. But, this home was very special.
"When I was a little boy, I hated when my mom would cry ~ these days, I'll happily take her tears of joy…. I've been lucky enough to have bought her a few homes over the years, but this one is special as she's told me over and over these past few years, 'After a lifetime of traveling, I want this home to be my last. That's my dream.'"
He added:

"I always say, if you got a good mom then you got a shot at becoming a good, caring human being."
Her son's surprise meant the world to Ata, who'd been through more than her share of hardships in life. On Mother's Day 2021, The Rock shared a photo of himself and his mom with the caption:
"Man I got lucky. My mom's been thru it all… cancer survivor, evictions, head on collision by a drunk driver… Tough life. Tougher woman."
You can watch video one of three of the Rock's mom's reaction to her son's heartwarming surprise gift below.
View this post on Instagram
Here is video two.
View this post on Instagram

And here is video three.
View this post on Instagram
Also, you can watch a news report discussing this story below.
Thanks for reading. Please be so kind as to pass this story along to your friends and family?
Sources:
"Dwayne Johnson Surprises His Mom With Her 'Dream' Home After A 'Lifetime' Of Struggles" Apost.