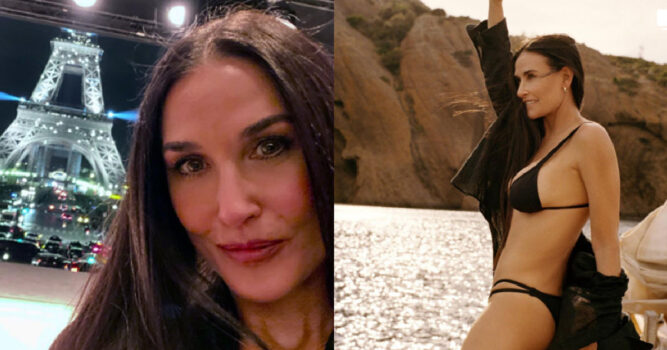 Demi Moore is a Hollywood icon who's getting ready to celebrate her milestone 60th birthday in November 2022. However, she's seeking more than just to celebrate 60 years on Earth; she also wants to help change the way society views women of a certain age and how they've come to view themselves.
Moore rose to fame in the 1980s when she portrayed "Jules" in "St. Elmo's Fire," making her a star and a core member of Hollywood's "Brat Pack. But the role that truly made her a household name was in the 1990 blockbuster classic "Ghost," starring opposite the late heartthrob Patrick Swayzee.
Soon more hits followed, such as "A Few Good Men," also starring Tom Cruise,  and "About Last Night." She also had hits with "G.I Jane" and "Striptease."
In G.I Jane, Moore broke stereotypes by playing a female soldier named Jordan O'Neill who put herself through the grueling, hellish "men only" elite combat training program for Navy Seals.
Recently Moore collaborated with the inclusive swimwear brand Andie to design a new line. She also served as the main model for the  Demi Moore x Andie capsule campaign and looked fantastic!
In the campaign's pictures, more looked positively stunning in a series of shots, including her on a boat in a black string bikini, looking like the iconic Amazon Hollywood queen she is.
The comments section was filled with accolades as many fans were in awe of her "stunning beauty."
More said that the collection was important to her as she wished to show that women did not have to allow themselves to be trapped by society's stringent and often outdated expectations that women of a certain age can no longer express their sensuality or be alluring.
"It's changing this idea that women become less desirable as we get older," she told People. "We don't want to look matronly or not feel sexy."
And when it comes to the big 6-0, Moore said that she is at the point in her life where she's embraced her age and doesn't mind wearing it proudly as a badge of honor. She said that when she turns 60, she's really looking forward to
"not being defined by a number and instead being defined by my experience."
"You hit 59 and you're already thinking, 'Well, I'm going to be 60.' It feels very liberating. When I think of my grandmother at 60, she in a way seemed to be already resigned to being old. But I feel, in so many ways, more alive and present than ever," she said.
Moore's inspiring message of body positivity at every age is an admirable one that millions of her fans have gotten behind.
You can learn more about this amazing story in the video below.
Thanks for reading. Please be so kind as to pass this story along to your friends and family?
Sources:
"Demi Moore Is More Determined Than Ever To Stay 'Sexy' And 'Desirable' As She Turns 60" Apost.