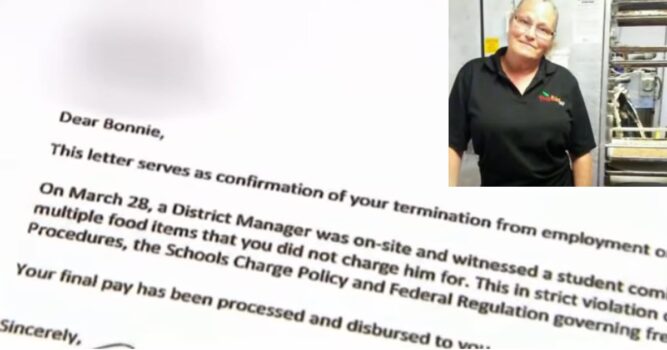 We all know the expression "rules are rules," but some folks can take this expression way too far! That's just what happened to an employee working for Café Services. A vendor contracted with the Macoma Valley Regional School District responsible for supplying students with lunches. Bonnie Kimball had been a faithful and trustworthy employee for the company working at Mascoma Valley Regional High School for over four years without any incidents. However, one day, Beverly came across a student who said he could not pay for his lunch. Feeling compassion for the hungry child, she allowed him to still eat with the promise he would come back the next day and pay off his balance. The young man was true to his word and did just that, coming back the next day to pay his $8 bill.  Beverly could not find it in her heart to allow the child to go hungry, even if it meant paying for his meal.
Beverly sincerely believed in her heart of hearts that she was doing the right thing. However, she soon learned that her company disagreed with her judgment and fired her because of her kind deed.
However, soon Beverly's story found its way to social media and went viral.
Many folks were highly critical of the company and the school for terminating Beverly's employment for such a heartless reason.
In an interview, Beverly revealed that the company offered to rehire her, but it was only because of so much negative backlash from the general public. However, Beverly declined their offer stating, "They didn't care about me then. Why would I help them now?"
She described the actions that led to her termination as a "natural act of kindness that anyone would have done."
However, according to Café Services, the company decided to fire Beverly because she violated the company's cash handling policies.
In another interview, Beverly shared that her supervisors never told her what she could and couldn't do if a student could not pay. She also knew that the company's contract with the school was up for renewal, and they did not want to create any scenes that might endanger their future arrangement.
The school district also released a statement saying that they were working closely with the company to make sure it never happens again.
Meanwhile, Superintendent Amanda Isabelle said they had received several complaints from students and parents regarding Beverly's harsh punishment. She stated:
What do you think about the company's decision to fire Beverly? And what about Beverly's decision not to return? Was she right?
Let us know your thoughts, and please be sure to pass this story along to your friends and family. Also, you can watch a video about Beverly's story below.