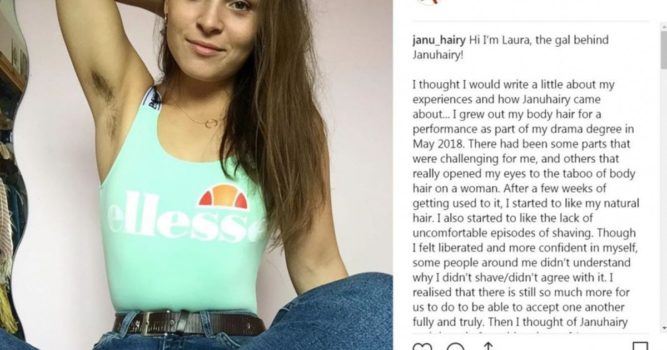 When the old year is coming to a close and the new year is starting, we often put our best foot forward and say that the new year is going to be better than the old year. For many people, it might mean losing weight or perhaps spending more time meditating. For one young woman and for many whom she is inspiring, however, January means that they are going to grow out their body hair nonstop during that first month of the year.
At this point, you are probably pondering your own choice of New Year's resolution and wondering if you actually reached high enough. After all, with the goal of growing your body hair placed before you, there may be a change in order. The movement is called Januhairy and it is relatively new. It was started by a young UK student named Laura who was taking part in a drama project at college and stopped shaving her hair. She posted on Instagram and said that she learned a lot about body hair taboos. She also learned a lot about her own feelings against the practice and she embraced it.
After she did it for a while, she felt empowered and decided to keep going for the entire month. She also started encouraging other women to join in, including her mother. When it hit the internet, there was no shortage of opinions on the subject. Many people loved it and decided to try but others were not all that jazzed with the possibilities.
If there is one thing we know, it is the fact that the Januhairy project is taking off this year. It hopes to raise funds for the Body Gossip charity. That charity promotes and educates on body acceptance.
She wants women to be comfortable with their bodies, regardless of whether they are clean shaven or not.