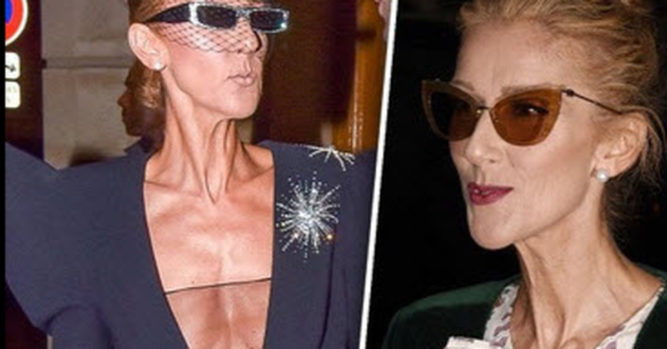 It seems as if we have heard a lot about body shaming recently. Those individuals just never seem to be happy with the way anybody looks. It doesn't matter if you are too fat, too thin or anything in between, they are going to have something judgmental to say and they will say it online without even giving it a second thought. It happens to the people next door and it also happens to celebrities.
One of the latest victims of body shaming is Céline Dion. The critics are coming out of the woodwork to judge her for being too thin, even though she loves the way that she looks. Since her husband died in January 2016, a personal transformation is taking place by the 50-year-old singer and something new has emerged.
Since going through the transformation, she is now wearing outfits that are more fashionable but are not overly risky. She is now looking to her clothes to make her feel attractive but it isn't about pleasing others, it is about pleasing herself. She had the following to say in an interview: "I'm doing this for me. I want to feel strong, beautiful, feminine and sexy," whilst adding, "If I like it, I don't want to talk about it. Don't bother. Don't take a picture. If you like it, I'll be there. If you don't, leave me alone."
There have also been some rumors circulating that she has a new boyfriend who also happens to be her backup dancer, Pepe Munoz. She said that the rumors are not true. "I am single. The press said, 'Oh my God, René just passed and now there's another man.' Yeah, there's another man in my life but not the man in my life."
She also spoke about the concern she had for the attention that was put on Munoz and how he would handle it. "It was probably overwhelming for him at the beginning when we started working together because we were dancing together. We bonded right away as friends, we had a good time. It evolved. But when people started to take pictures and it was like, 'Who's that guy? René?' … Let's not mix everything."
She also doesn't have a problem with people thinking that Munoz is her boyfriend. "We're friends, we're best friends. Of course, we hug and hold hands and go out, so people see that. I mean, he's a gentleman. He's giving me his hand to go out. I don't mind because he's handsome and he's my best friend."
It is reported that Pepe is always with her because she is training and is trying to stay in shape. She did confirm that she was still single: "By the way, when I say, 'I am single,' please, leave me alone. Thanks."
Dion has still not fully gotten over her husband and she often talks about him, saying, "He's at peace and he's resting and he's always within me. I see him every day through the eyes of my children. He gave me so much strength through all these years. And so much for me to explore, for me now to spread my wings. The maturity that comes with age and time."
"I feel that now I have a voice, which is kinda weird as that's what I've been doing all my life – using my voice, but in singing and performing. But I use my voice as well for things that I choose I want to do and things that I say to my team I don't want to do. I feel that I am grown up enough to say, 'I think I would rather do this than that'. I'm not playing 50. I'm not playing that, 'I'm the boss now'. I don't want to do that. I don't necessarily want to be the boss. I just want to be the best of me and be surrounded – like my husband always surrounded me with – the best people."
Her greatest happiness in life is still her children, which includes eight-year-old twin boys and an 18-year-old son. Her oldest son is even following in her footsteps in the entertainment industry. He is entering as a DJ under the name, Big Tip.