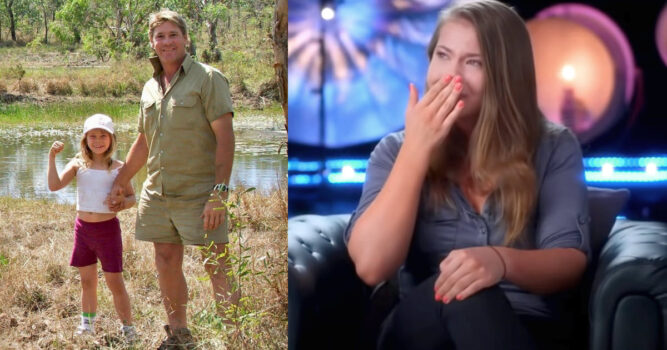 In 2019, 20-year-old Bindi Irwin opened up about her dad Steve Irwin's tragic death, revealing that watching footage of him still brings her to tears.
View this post on Instagram
Nearly 13 years since his untimely death in 2006. In an interview with Stellar Magazine, Steve's daughter Bindi shared how watching footage of her father can sometimes make her cry.
"It was just an ordinary day and we were playing the video where we petition against harvesting of crocodile eggs," she told the publication. "There's old footage of dad with the crocodiles and, even though I've seen the video maybe 50 times, that day I started crying."
View this post on Instagram
Bindi noted how the grief was something she felt more on some days but less on others.
"What gets to me are those moments when I'd love him to be here to share what we're doing," she added.

"It could be when my brother is receiving an accolade for his photography, or it might be at the end of the day when we're having dinner and laughing.

I'll think: 'I wish Dad was here for this.' But he's just not there."
View this post on Instagram
Steve Irwin passed away on September 4, 2006, at age 44, while working underwater on a film titled "Ocean's Deadlies." He suffered fatal injuries after being attacked by a short-tail stingray.
"I remember people coming up to me and saying, 'I'm sorry for your loss, sweetheart. Time heals all wounds,' " she told People magazine in December.

"But that's just not true. It's like losing a part of your heart, and when you've lost that, you never get it back."
View this post on Instagram
You can also watch a video of Bindi becoming emotional during a heartwarming tribute to her dad below.
Thanks for reading. Please be so kind as to pass this story along to your friends and family?
Sources:
"Bindi Irwin Still Cries When Watching Footage Of Her Late Dad Steve Irwin" Apost.