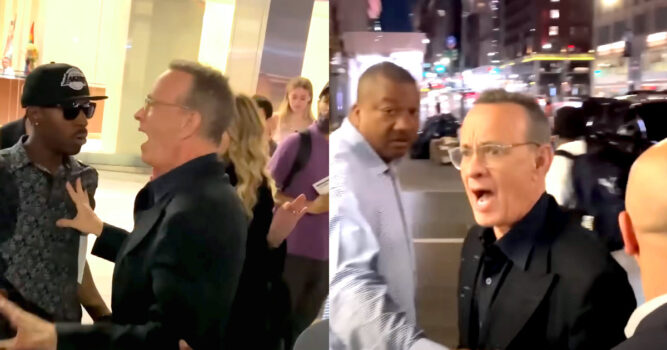 Tom Hanks, a beloved Oscar-winning actor with a reputation for being "the nicest guy in Hollywood," recently lost his temper while confronting a mob of overeager paparazzi who accidentally nearly ran over his wife.
In a video that's since gone viral across social media, the 65-year-old actor is seen yelling expletives at a small mob while he and his wife Rita Wilson were leaving a venue.
The Daily Mail reports that the incident occurred on June 15. The video shows a crowd gathered around the couple as they made their way to an awaiting vehicle outside of a restaurant in midtown Manhattan.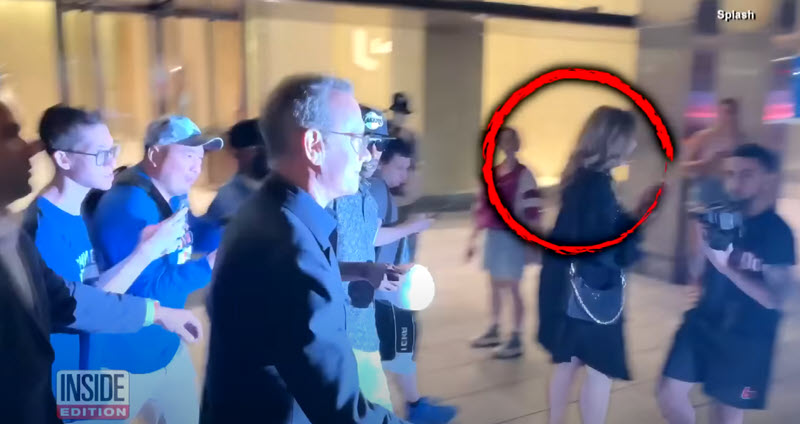 As Hanks and his wife were leaving, a mob of photographers and fans were crowded around them. During the bustle, one person's seen accidentally bumping into Wilson while trying to keep up with a faster-moving Hanks. The collision caused Wilson to lose her balance and nearly topple.
"Stop It!" Wilson cried out as she tried to keep her footing.
At this point, an understandably frustrated Tom Hanks turned his full attention to the mob, not just the individual who ran into his wife. he can be heard shouting:
"Back the f*** off!"
The legendary actor added: "Knocking over my wife?!"
One person from the mob could be heard saying, "Sorry about that, Tom," But Hanks did not respond. He was pretty hot as his security team had to physically pull him away from the mob.
Since the video surfaced, fans have praised Hanks for how he handled the situation in a remarkably measured fashion, with one YouTuber remarking:
"Can you blame him? Celebrities can't go anywhere without being swarmed. It's not the price for fame, it's a punishment.
Imagine getting yelled at by Tom Hanks. The shame would last for generations. Also anyone mocking him doesn't deserve a wife

— An Avocado (@an_avocadoo) June 17, 2022
"I know everybody wants to have an Instagram selfie with a celebrity they caught walking down the sidewalk, y'all need to give them some space."
Too many people mistake kindness for weakness. Don't f*ck with Tom Hanks, y'all! He's nobody's punk. #bydhttmwfi

— LeVar Burton (@levarburton) June 17, 2022
"I certainly don't blame him for reacting the way he did," a second added.
If you tell me Tom Hanks is pissed at you, I'm gonna ask what the hell it is that you did.

— Charlotte Clymer 🏳️‍⚧️🇺🇦 (@cmclymer) June 16, 2022
And a third wrote: "Stupid people, overzealous and shoving. I'm glad Hanks defended his wife and telling them to back "the f***" off … This is why some celebrities don't even do any conventions or meet and greets because of idiots like these giving fans a bad name."
However, some thought Hanks went too far with one person's writing: Tom is overreacting here. Oddly similar to Will Smith overprotecting his wife over a minor incident…"
And there are some who made comparisons between what Will Smith did to Chris Rock at the Oscars and this incident.
Tom Hanks is a hero for losing his cool defending his wife.

Ted Cruz is a coward for not defending his.

Will Smith defends his wife who is intentionally humiliated in front of a worldwide audience and they try to destroy him.

That's it. That's the tweet.

— Helena Baptiste (@🏡) 🕊️ (@sumbodysbabygrl) June 17, 2022
Hanks and Wilson have been married for 34 years and have two sons, 25-year-old Truman and 31-year-old Chet.
Wilson, also an actor, is best known for her roles in movies such as My Big Fat Greek Wedding and Jingle All the Way.
You can watch a video of the incident below.
Thanks for reading. Please be so kind as to pass this story along to your friends and family?
Sources:
"Tom Hanks furiously confronts mob after they push wife Rita: 'Back the f*** off'" Vt. Stefan Armitage. June 16, 2022.