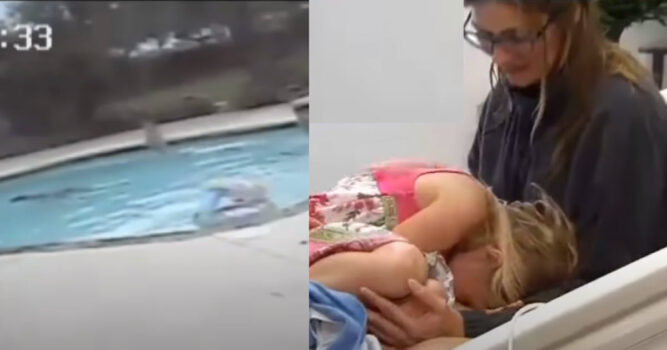 According to Tracy Anderwald, her daughter, Allison, is a true hero. The 34-year-old mom and her daughter were enjoying a lovely "mommy-daughter day" while visiting her sister one day.
The pair were swimming in the backyard pool when suddenly, the mom began having a seizure.  Tracy fell unconscious face down in the water and nearly drowned if not for the little Allison's quick actions.
After realizing her mother had not turned over for nearly five minutes, Allison jumped into the water and pulled Tracy to the shallow end of the pool before flipping the woman over, so she was no longer facedown in the water.
The mother of four from Portland, Oregon, who barely remembers the events of that day, said she was absolutely shocked after watching her sister's home surveillance video of the harrowing rescue

According to her family, Tracey was facedown in the water for almost five full minutes!
The mom was eventually released from the hospital a few days after the incident, and doctors said it was a miracle she survived her accident without suffering significant injuries.
Tracy's sister describes the incident as a blessing.

The incident also highlights the importance of teaching children how to swim from an early age. According to Allison's family, the little girl learned to swim when she was just two years old, and it's clear those skills were critical in helping her save her mom's life that day.
There was some initial concern that Tracy may have suffered brain damage after being underwater for so long. Still, it turns out the mom could make a full recovery without any lasting detrimental impact on her health.
The family hopes Allison's story will inspire parents to make sure their kids learn this essential skill early in life. For more on this story, you can also watch the video below.
Also, please be sure to pass this inspirational story along to your friends and family.