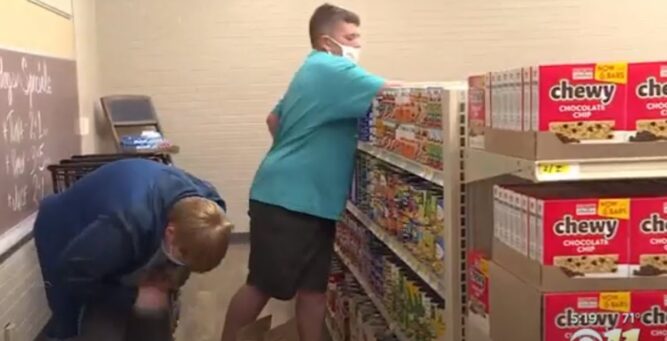 We're living in unprecedented times in 2020 and more than ever, families are having to find resources that they've never had to tap into before. I live in Texas and earlier this week, I saw a news headline with a photo that showed miles of cars lined up waiting to get food from a local food bank. It's terrifying and the resources are limited. The fact is, even though we're living in a pandemic and social distancing, in some ways, people have come even closer together than before. We're seeing communities and individuals really step up and help out wherever they can.
Students at a high school in Sanger, Texas decided to take matters into their own hands and help their fellow students and their familie3s. The principal of Linda Tutt High School, Anthony Love, says that his school has found an excellent way to give back to the local community. Some of the students in his school are from low-income families and they've been hit super hard by the pandemic. For this reason, the school has opened a fully-functioning grocery store right on the school's campus. In fact, the school administration has partnered with First Refuse Ministries and the Albertson's grocery store chain to bring their vision to life.
hometown for @MikeMcNealMD and me – @CityofSanger Texas and @SangerHS highlighted in a great story here. Slight brag – my brother is mayor (Thomas Muir) and got mentioned also. Great idea for other rural towns, too. https://t.co/BWWHoGYReC

— Tresa Muir McNeal (@TresaMcNealMD) November 19, 2020
In addition, the school is conducting weekly food drives to help feed the people in their community who need it most. For people who are struggling harder than ever, the grocery store is serving as an invaluable resource that will help people who need food, and best of all, the grocery store doesn't accept money as payment. Using a special point system, students can shop at the store for food and other essential items that they need. They earn their points via office referrals that reward students for working hard. For example, a kid can get one point for a can of carrots. This system is helping kids focus on their schoolwork.
Such a great Idea!

— Mrs. Cipriani (South Houston HOSA) (@hosa_south) November 21, 2020
For more information on this program, watch the news video about this story below.