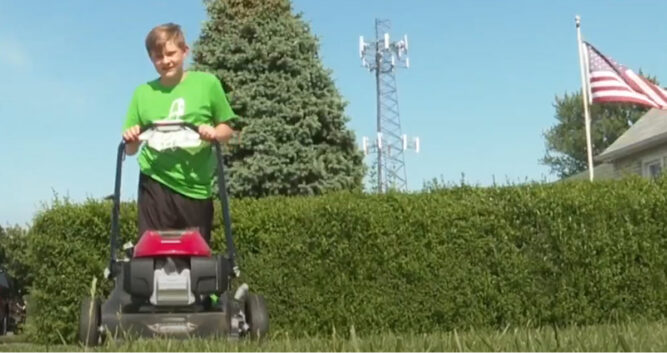 It's inevitable. If you have a home in the U.S. (and most other countries in the world), you have to either mow your lawn or pay someone to do it. Personally, it's more cost-effective for me to pay someone to mow my lawn, so that's what we do. However, for some people, that's not an option because they don't have the money. Taking care of the yard is about a lot more than just making your yard look nice, though. Doing yard work also teaches people the power of nature, and if it's a young person doing the work, the value of hard work.
For a young 14-year-old boy named Nathan Adams, his grandfather, Frederick Adams, taught him how to take care of lawns. As his grandson stood by his side, Frederick talked about everything to do with lawn care, thereby teaching the next generation exactly what's involved with taking care of a nice yard. When Nathan was old enough, he eventually took over the lawn care himself, no doubt a huge help to his family. But he didn't just handle his own lawn. He wanted to mow lawns to make money, displaying a keen entrepreneur spirit. The community noticed the hardworking young man, and they came together to help him get supplies.
In 2021, Frederick Adams passed away. A volunteer firefighter and a military veteran, Frederick had a strong drive to serve others. Because of this, Nathan came up with a plan to honor his grandfather. In an interview with Fox News, Nathan said that he would mow lawns for veterans for free. Nathan already had his own business set up, so it was easy for him to get started doing this. Specifically, Nathan pledged to move 50 different lawns for 50 veterans. After that, all veterans will still get a discount from the young man.
Below is a news video about this story.