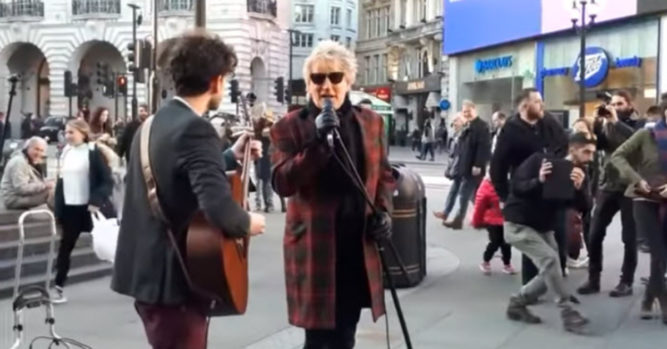 You never quite know what you are going to see when you were walking through the city. One of the things that many of us are accustomed to seeing are street performers. It seems as if they are on almost any corner, singing or playing an instrument to amuse and entertain us. Some of them even perform magic or jungle as a form of entertainment. The unfortunate thing is, most of us simply pass them by because we are in such a hurry.
For one street performer in London in November, Henry Facey, things are about ready to take a turn for the better. He is what is known as a busker, which is a British term for a street performer and he was doing a Rod Stewart song, 'Handbags and Gladrags' on his guitar. There was a small crowd nearby but there were many more who were about to gather.
As luck would have it, Rod Stewart came walking by at that time.
They said "He just happened to be strolling through Piccadilly Circus when he passed Henry." Newsner went on to note that, "He couldn't pass up the chance to perform the duet, and asked the musician if he could borrow his microphone."
It was then that Stuart began to sing and people begin to gather when they recognized what was happening.
The performance may be short but it is quite powerful. Their voices go together nicely and the crowd was loving it.
According to the Scottish Sun: "[He] used to busk with a harmonica before joining bands and then releasing his first solo album in 1969."
Stewart has now sold more than 100 million records around the world.
It is almost as if Stewart has returned to his roots and he is proud of it. By the time the impromptu performance was over, the busker was smiling from ear to ear. He said his thanks to Stuart and the two of them parted ways.
It's nice to know that somebody as well known as Rod Stewart can take a moment to spread joy among those who are just watching a street performer doing what they do best.