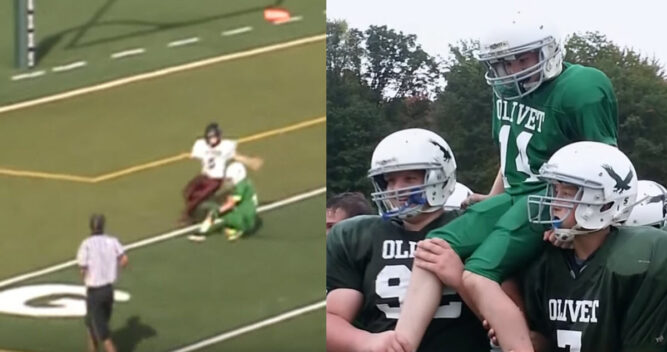 Middle school football players. They're so shallow, right? Self-absorbed. Maybe even bullies. At least that's the stereotype. A football game called the Olivet Eagles from Olivet, Michigan, did something completely unpredictable when they gave a special needs boy named Keith Orr on their team the chance to score the game-winning touchdown. You see, these boys had a plan. They wanted to give one special little boy the opportunity to make a touchdown.
The boys on the team say that everyone was in on it except the coaches when the boys on the team came together to come up with a plan to not score. The first part of their plan was to try to get as close to the goal line as possible without scoring, even if it meant taking a dive, which they did. The crowd was definitely not happy, and just imagine how the coaches felt. "We really wanted to prove he was part of our team," one boy explained. After the boys fumbled their play, they crowded around Steve, protecting him, when it came time to let him make his move, and sure enough, Keith scored the touchdown. The funny thing is that Keith's parents almost missed the moment. "Did he just score a touchdown???"
For his part, Keith said that scoring a touchdown was "Awesome!" Keith's mother was overcome with emotion when she said, "someone's always going to have his back, from now until the day he graduates." She's got that right. When the football team decides you're cool, that's just the way it's going to be.
The other boys on the team say it's changed their lives. One little boy who was interviewed broke into tears as he explains that it wasn't his idea. "Nothing could wipe that smile off my face." He explained that Keith went from being pretty much a nobody, but ended up making everyone's day. He opened up his heart and shared, with tears running down his face, that he went from someone who just cared about his friends and having fun to someone who wants to make a difference in everyone's day, just like Keith did.