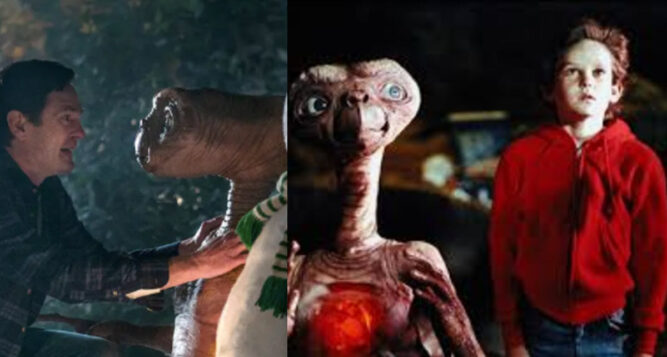 Many of us still remember the classic movie E.T the Extra-Terrestrial first released back in 1982, produced and directed by the legendary Stephen Speilberg. Well, if you're a fan of the original movie, then you are in for a big treat this holiday season because E.T. is back, better than ever in a new TV commercial aired earlier this week featuring everyone's favorite alien along with his co-star Henry Thomas who reprised his role as Elliott. The long commercial almost felt like a sequel as we had a chance to see an adult Elliott reuniting with E.T. in a sweetly nostalgic commercial for Xfinity.
We also discover that E.T. still loves those Reese's Pieces (who can blame him, right?), and the commercial also featured a shot from the classic movie of bikes flying across the night sky with a shining moon in the background. I think you know which one I'm talking about! Also, Xfinity really went yanked on our heartstrings in this commercial. That's right; they also showed the final scene in the movie where E.T. takes off in his spaceship to return home. It was just as beautiful and nostalgic as the original, and the commercial certainly succeeded in doing the original film the justice it deserves.
The classic movie still enjoys critical acclaim as "a timeless story of friendship," according to Wikipedia. And it ranks as one of the greatest science fiction movies of all time, according to a survey on Rotten Tomatoes. The classic film was also selected for preservation in the United States National Film Registry in 1994!
Here's the full 4-minute Xfinity commercial. Don't forget to grab a couple of tissues!
Source: Do You Remember