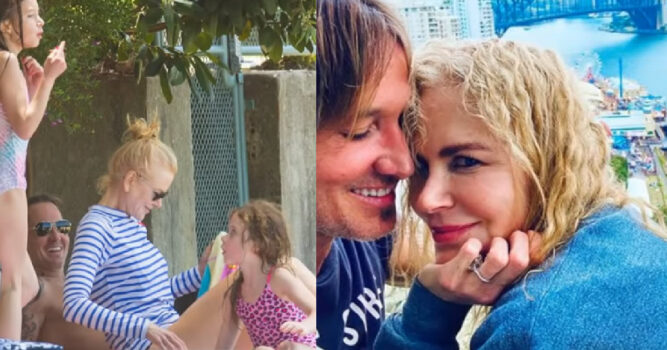 Nicole Kidman and Keith Urban are superstars who, despite their enormous success in the entertainment industry, are more concerned with being superstar parents to their two beautiful daughters, Sunday Rose and Faith Margaret.
The power couple first met back in 2005 at the G'Day LA event in January. At this event, which the Australian Consul General hosted in LA, the goal was to promote Australian culture and appreciation in America. It turns out the promoted did a much better job than expected as Keith Urban was smitten with the Australian actress.
Kidman is the daughter of Australian parents living in Hawaii and moved back to Australia after living her first four years of life in the states. Urban was originally born in New Zealand but also grew up in Australia as well. Their chance meeting in 2005 sparked a whirlwind romance that would lead to their fairytale engagement seven months later.
The couple would marry in 2006 at the Cardinal Cerretti Memorial Chapel in Sidney, Australia, just a short year after they first met.
During a 2015 interview with the Telegraph, Kidman shared that  at first, they "[…] didn't really know each other – we got to know each other during our marriage." She went on to add: "I think meeting at a certain age makes a difference. And I trust my gut instinct. From the first minute I met him, there was a feeling of, Ahhh OK, somehow I've met home. And he had the same feeling. That was all we had, but that was the essence of what we worked from."
Despite the flash nature of their romantic beginnings, it didn't hurt their marriage. However, the couple had troubles, such as Kidman's declining career before finding a resurgence and Urba's struggles with drug rehab.
In an interview with You, Kidman confessed that she'd given up any hope of ever having children with her husband. So, when the actress discovered she was carrying their first child at age 40, she was over the moon. She described it as a "miracle." And recalling the day she gave birth, Kidman said:  "I was like, 'Your only job, Keith, is to get me the epidural if I scream for it.' And I screamed for it. I was doing OK, and then I went, 'Oh boy!'"
In July 2008. The couple would welcome their first daughter, Sunday Rose Kidman Urban, who was born in Nashville, Tennesee. Urban rushed to announce the news via his website, saying:
 "Earlier this morning Nic gave birth to our beautiful baby girl, Sunday Rose Kidman Urban. We want to thank everybody that has kept us in their thoughts and prayers. We feel very blessed and grateful that we can share this joy with all of you today."
Then, two years later, the family would again welcome another daughter, Faith Margaret Kidman Urban, who was born via surrogacy. The announcement was a huge surprise, as the couple had plans to have another child very close to the vest.
The couple announced Faith's arrival shortly after the 2010 Golden Globes Awards; in a statement, they said:
"Our family is truly blessed, and just so thankful, to have been given the gift of baby Faith Margaret. No words can adequately convey the incredible gratitude that we feel for everyone who was so supportive throughout this process, in particular our gestational carrier."
As for their relationship, Kidman described Urban as her "rock." During an interview with Today in 2014, The Academy award-winning actress admitted that she finds the most comfort in life whenever she leans on her husband when life gets dark.
"I'm lucky to have a rock of a husband and a strong faith. I have both those things," she said. "Keith and my dad… good men. Choosing to protect his family and take care of himself, but take care of his daughters, and walk the walk, if that makes sense. Not just talk the talk."
And as for their children, Kidman admits that they are very involved and are hardly ever not by their side.
"We never leave the kids, one of us is always there," she explained.

"We travel together, so we are always together, but never where you are in a house and you can't go to the store, to a restaurant of the movies," she said.

She also admits that they have a lot of help from their families.
"My sister's staying over and my mum's helping; I don't have that help in Nashville so that's been incredible," Nicole explained.

"When Keith went to Nashville and I had to work late nights, I rang Ant and asked her to move in with the girls and she did, and brought along her kids.
"That's special. It's the nature of what we're all having to do now – you get to be commune-like; this extended family where you're all raising each other's kids together.

"We've all had to go back to basics, and this year has required it because people are pleading for help."
During the pandemic, Kidman also explained how life had changed for her family.
"Staying home, doing school from home and all of those things that everyone has been doing is a completely different life for us."
You can learn more about Nicole Kidman and Keith Urban's incredible romance and family life in the video below.
Thanks for reading. Please be so kind as to pass this story along to your friends and family?
Sources:
"Keith Urban's Daughters Are Two Of The Prettiest Sisters Ever" Apost.
"Nicole Kidman reveals parenting style and talks daughters Sunday and Faith" Hello! Hanna Fillingham. October 20, 2020