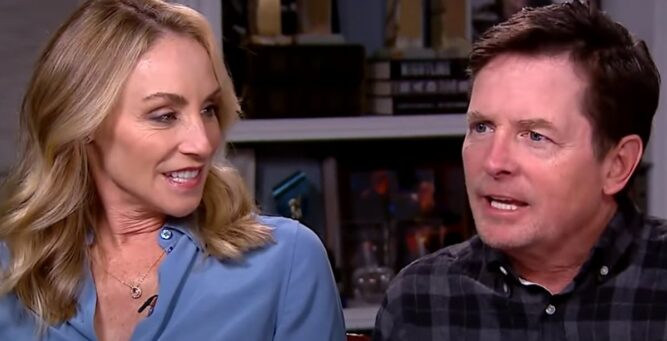 Being married is a lot of work and if you want to actually have a happy marriage, it's even more work. Keeping the spark alive in a marriage is challenging in the best of circumstances, but when you're struggling with a debilitating disease, it's even harder. Married couples experience disagreements, money problems, the deaths of loved ones, and everything else that comes with life. For a lot of married couples, they experience life just going through the motions, so to speak, but for one high-profile celebrity couples, that couldn't be further from the truth. We're talking about actors Michael J. Fox and Tracy Pollan.
The couple has been married for 32 years and they have one of the most charming Hollywood love stories ever. They met in 1988 when Tracy was on the hit sitcom "Family Ties," a show in which Michael was one of the leading characters. She was cast as his girlfriend on the show, and that translated on over to real life. Three decades later, Michael and Tracy are still very much in love and their marriage is a rock for both of them and their children. Michael recently released a new book titled "No Time Like the Future: An Optimist Considers Mortality," and in the book he refers to his wife as his "rock that keeps on rolling."
The Truth About Michael J. Fox and Tracy Pollan's Inspiring 30-Year Love Story https://t.co/noOXGd6TXG

— E! News (@enews) July 16, 2018
He explains that she "puts up with me," something many men say affectionately about their wives, but for Michael, that means that she doesn't cut him any slack, he says. In fact, Tracy is Michael's best friend, and he says that she's a great cook, an excellent mother, and a "great bodyboard surf junkie beach babe." It doesn't get much better than that. Over the last several months, the family has spent a lot of time at home together, just as the rest of us have, and it's allowed them to grow even closer as a family with their four children.
Video: Michael J. Fox, Tracy Pollan and their four kids make it a family affair at Parkinson's Fundraiser https://t.co/Ly4xz5tprf pic.twitter.com/Yvd5jToh4N

— ET Canada (@ETCanada) November 14, 2018
The pair have Sam, who is 31, 25-year-old twins Schuyler and Aquinnah, and 19-year-old Esme. Watch the video below for an interview with this awesome couple.