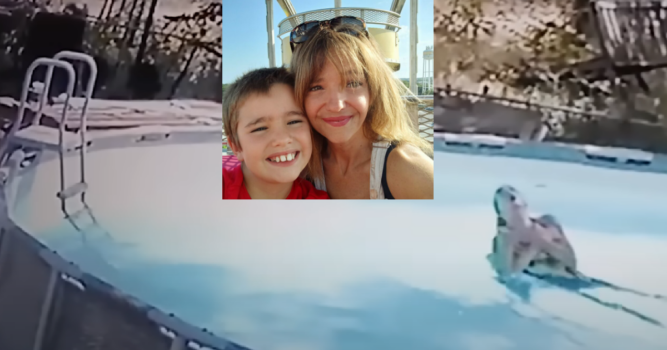 Gavin Keeny might only be ten years old, but he's just the kind of person anyone would want around during an emergency.
Two years ago, the Oklahoma native noticed his mom, Lori Keeny, was choking. The little boy immediately tried to give her the Heimlich maneuver, and when he couldn't get it to work, he called 911. His quick thinking ultimately saved his mom's life that day and earned him an award from the Kingston Police Department, recognizing his bravery. However, now he's got a second award to add to his collection, and it's for saving the same person's life!
Gavin and Lori were recently relaxing at home on a hot summer afternoon when they decided to take a little dip in their backyard pool. Security cameras captured the moment Gavin climbed out to dry off on the deck when Lori began having a seizure without warning.
Lori has epilepsy and a long history of seizures. She was terrified as she began to convulse in the swimming pool and quickly started to sink. That's when Lori's "little hero" jumped into action!
Gavin recalls hearing a splash and seeing his mom "sinking into the pool." He admitted he was scared, but that feeling didn't deter him from diving into the pool and grabbing his mom.
The young boy was careful to keep her head above water as he swam over to the pool ladder, holding her there until his grandfather could rush in to help.
Lori's dad lives next door, and he came running once he heard all the commotion in the pool. He was able to jump in quickly and get hold of his daughter until her seizure passed while also offering a comforting hug to his hero grandson.
Lori later shared the terrifying video on her Facebook page.
"One of my worst nightmares came to life this morning," she wrote. "[ … ] LOOK AT MY BABY SAVING MY LIFE… literally saving my life. Gavin had just got out of the pool and was on the porch and that's when he heard me. He jumped in."

"I'm okay, I took in just a little water we think before Gavin got me," Lori continued. "I can't believe I just said that. I can't believe I'm typing this. I CAN believe what I saw in Gavin, my little hero. I just can't believe he HAD to do it and that's what breaks my heart. Thank you God for putting this wonderful little human into my life."
Now that Gavin has saved his mom's life twice and received two separate awards for his bravery, Lori is more convinced than ever that her little boy is her guardian angel.
You can watch the incredible footage in the video below.
Thanks for reading. Please be so kind as to pass this story along to your friends and family?
Sources:
"10-Yr-Old Becomes Mom's "Little Hero" After Saving Her Life — For The 2nd Time!" Inspire More.