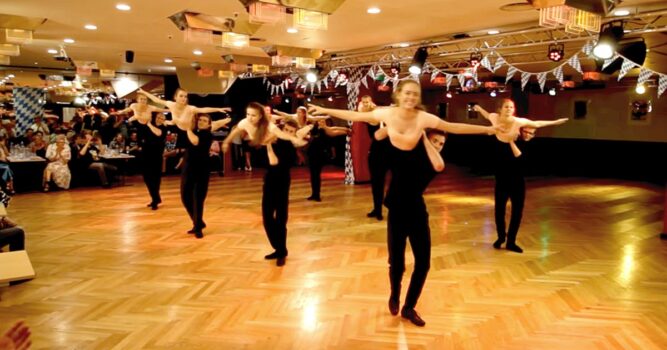 Like music, dancing is a universal language we all can understand. Most parents will tell you that their babies danced even before they learned to walk! Moving our bodies to a rhythm just comes naturally. For example, have you ever tried to fight the urge to move your feed or nod to one of your favorite songs in an elevator? It's almost impossible, right? It's like when the right music hits our ears. Our bodies develop a will of their own. However, most of us are not what you would call "professionals." This could be why so many people love watching professionals at work dancing to some of their favorite songs.
Watching a professional dancer perform to a great tune allows you to dance to it vicariously in a way you couldn't do yourself (not without years of training). It's little wonder why we love such shows as "Dancing with the Stars," "So You Think You Can Dance?," and "The Masked Singer." We love watching people let the music take over, and their skills do the talking. Also, many of our favorite movies feature fantastic dance scenes like "Footloose," "Hairspray," and of course, "Dirty Dancing." In this video, one group decides to celebrate Oktoberfest uniquely by putting on an unforgettable performance. These were students from Bodscheller, a famous dance school, who put on quite a show while performing to the hit single "Time of My Life" by Bill Medley and Jennifer Warnes, the main song featured on the "Dirty Dancing" soundtrack.
The Dancers Make Their Entrance
As folks sat around the hall sipping drinks at their tables, they were likely enjoying a delicious meal with their friends. However, many of the conversations stopped as soon as a group of dancers started making their way to the dance floor.
I don't think they had any idea what they were in store for as the dancers made their way to the floor as folks clapped along to "Do You Love Me" by the Contours. Perhaps, some had the idea they were about to swing dance to a classic 50s song?
Getting Dirty
However, once the opening bars to "Time of My Life" began, folks knew immediately they were in for a treat!
And the dancers didn't disappoint as the guys twirl their partners to and fro, each couple in perfect sync to the music and the other dancers.
Going Up
At several points in their performance, the male dancers lift up their female partners in an impressive show of athleticism, just as Patrick Swayzee did with Jennifer Grey in the 1987 hit classic.
You can check out their incredible performance in the video below.
Wasn't that fantastic? Please be sure to pass this story along to your friends and family.