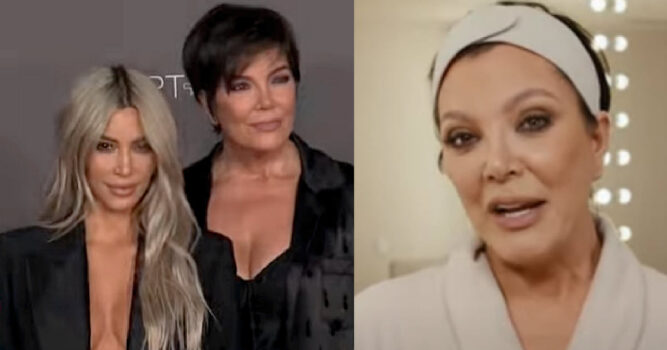 Kardashian matriarch Kris Jenner recently went makeup-free at age 66 to demonstrate her beauty routine on Friday, July 29, while using her daughter Kim Kardashian's skincare line, SKKN BY KIM.
"I am in my 60s and for me to find a new routine that really works is kind of amazing," she revealed in an Instagram video posted on the SKIM founder's page, captioned: "My mom @krisjenner gives you a glimpse into her nighttime routine with @SKKN."
She then endorsed the nine-step routine line saying:
"I remember the first two days I did it, I came downstairs at my house and my cousin walked in the room and said, 'Wow, what did you do to your skin?'"

"So I knew that Kim was onto something and I just wanted to share my little routine with you and you're going to love it too. So here we go," she added.
The Keeping Up with the Kardashians star began by using the cleanser which she said was "really light." She then gently rubbed the exfoliator across her face.
"It is so light and really not too abrasive, it feels good and you really feel like you're getting a good deep cleanse," she says of the product. "This exfoliator is really special because it does have a really, really beautiful rose essence, so the smell is so yummy."
In the next step, Jenner used a toner, followed by the hyaluronic serum "which prepares the skin for all the other fabulous goodies."
Jenner then disclosed that she always applies her products down to her neck and chest area because "it's really important es."cially as you grow older".
The entrepreneur then, used the vitamin C8 serum which she said makes her "really happy" along with the facial cream, rubbing the excess on her hands since she didn't "want tconcludedit."
Finally she conclude the routine by using the night oil and eye cream and shared her steps are "a little bit different" from Kim's because she's "Old School."
After Jenner posted the Instagram video, many users praised the reality TV star for sharing her beauty secrets.
Beauty Banter founder and editor Sarah Howard wrote: "Love this @krisjenner is a beauty influencer!!"
Another user shared: "I love that Kris using the products down to her neck area! Super important when doing skincare!!"

A third chimed in and commented: "Kris looking naturally beautiful! Love to see it."
Jenner shared to WSJ Magazine last year that she intends to launch her own skincare brand, saying:
 "About four or five years ago, I decided to formulate a skincare line. I had some samples done up. So I do have a skincare line that I love that's ready to go."
She said that the inspiration to start her own brand comes from her passion for skincare rituals:
"I'm obsessed with my skin and have always taken really good care of it."

"I had my first facial when I was a very young girl and just never stopped, really. It was always a priority," she added.
You can watch Kris Jenner's video below.
View this post on Instagram
You can also watch a report about Kris Jenner's video below.
Thanks for reading. Please be so kind as to pass this story along to your friends and family?
Sources:
"Kris Jenner, 66, is praised after removing all her makeup in new video" Vt. Asiya Ali. August 1, 2022.