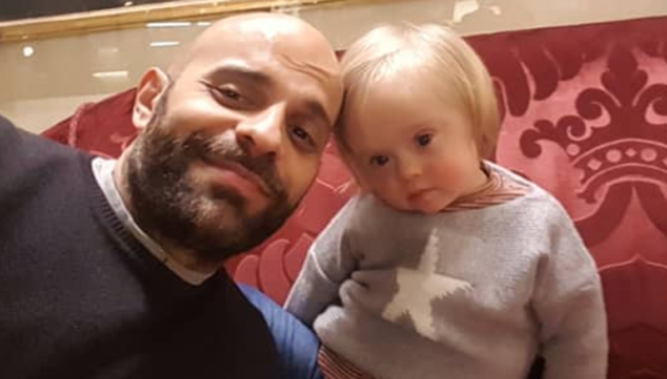 A little girl's fortunes have dramatically changed after her mother first rejected her, then 20 potential adoptive families also did the same. The heartwarming story of Luca Trapanese's journey to adopting baby Alba has captivated thousands across the internet, going viral for many reasons. But, one of the biggest reasons for the story's notoriety may be because social services initially did not want to grant custody to a single, homosexual man.
Nevertheless, they eventually made an exception in Luca's case, and while that should never have been a factor in the first place, we are happy they came to their senses. According to the BBC, the 41-year-old Italian Luca published a book in which he recounts his journey to becoming Alba's adoptive father. You see, Alba has Down syndrome.
During a radio interview, Trapanese explained that his case was noteworthy because it "destroys stereotypes about fatherhood, religion, and family."
In Italy, adoptions for homosexual and single parents have always been a very complicated matter.
Luca adopted Alba back in 2017 when the little girl was only 13 days old and had already been rejected by 20 families because of her condition.
Luca had experience working for several care centers dedicated to caring for people with special needs, and he always wanted to be a dad.
That was why, despite not having a partner, he decided to push on with the adoption of Alba, who now enjoys a beautiful life with a loving father.
According to the BBC, Alba is a strong-willed little girl who can be a bit stubborn sometimes. She loves to dance and play and very much enjoys the company of others.
We wish Luca and his sweet angel Alba all the best! This man definitely deserves to be a dad, and we are sure he'll make Alba a wonderful, loving father.
What did you think of Luca and Alba's story? Let us know your thoughts in the comments section, and please be sure to share their story with your friends and family.