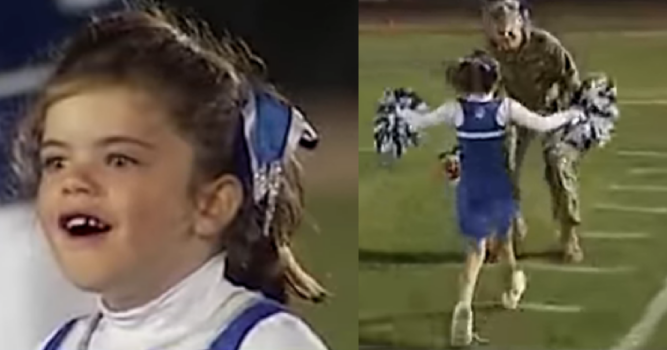 Daddies will always have a special connection with their daughters. This one 7-year-old's reaction to her father's return from his military service was so heartwarming.
Over the years, we've seen countless "military comes back home" reunion videos, but it's tough to hold back the tears when kids realize their beloved parent is home. The genuine joy and appreciation hit you square in the "feels." And it's even more profound considering how dangerous it can be for deployed soldiers.
In 2013, a little girl had a very special surprise; her reaction has since melted the hearts of millions worldwide.
Hailey McGregor had just become a big sister when her mom gave birth to her baby brother, and her dad, an officer in the United States Navy, had been deployed overseas.
All of this happened in just seven months, and the new big sister had to adjust to having a more active role in helping mom while her dad was away serving their country.
However, it was tough, as Hailey wasn't used to not having her dad around. She concentrated on her studies and even joined her school's cheerleading squad to pass her time.
One night, during just another football game, she was about to go into her cheer routine when she was stopped in her tracks by the sound of a familiar voice.
The loudspeaker made a big announcement as Hailey stood on the field with her team, feeling very proud after they'd just performed a routine.
A few seconds later, Hailey heard a name that she immediately recognized, her dad's name.
Unsure what to do, you could see the little girl's face cycling through various emotions. She seemed shocked and happy and soon had hot tears streaming down her adorable little face.
But, she was confused as to why her dad's name was mentioned over the loudspeaker. However, soon she looked over at her mom, who was watching her from the sidelines, and immediately ran toward her.
After embracing her daughter, mom points down the field. And waiting, there was the surprise that reduced everyone in attendance to tears.
Hailey's dad was beaming with a broad smile while holding a bouquet of pretty flowers in one hand.
Without wasting a second, Hailey runs toward her father, arms wide, and excitedly jumps into his strong arms. The crowd erupts in cheer as tears flow between father and daughter and everyone else fortunate enough to witness this life-affirming scene of pure love.
During their interview, her dad said:
"I've been nervous the whole night, I've been dying to see her."
This unexpected, heartfelt reunion will remain a treasured memory Hailey, and her family will always cherish. It's clear from how they both reacted just how deeply they missed each other.
As the famous saying goes:
"Any man can be a father, but it takes someone special to be a dad."
Hailey knows no matter how long, or far away her dad remains from them, their love will always stay strong.
You can watch the touching video below.
Thanks for reading. Please be so kind as to pass this story along to your friends and family?
Sources:
"Little Cheerleader Can't Help Her Tears When She Recognizes Dad's Voice On Speaker" Jumble Joy.