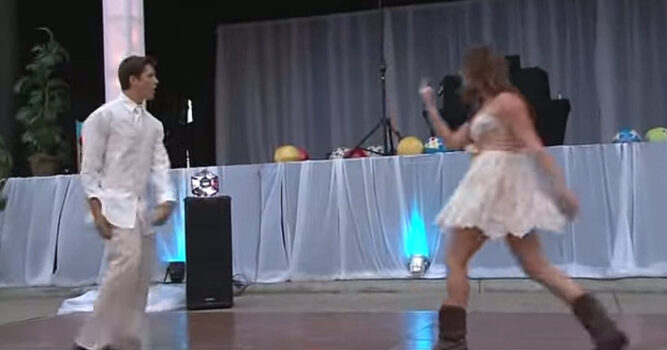 When Trent and Analisa Brookshier got married in 2012, they did something no one was expecting at their wedding reception. They turned back the clock for their first dance and did a dance routine from the movie Footloose, performed to Blake Shelton's "Footloose." First, the ring bearers and flower girl enters the dance floor dancing to the song. Then they make way for the groom. The groom comes running out from behind the stage and starts dancing to "Footloose."
Most stunning at this point is when he wowed the audience by doing a backflip. Before you know it, out comes the beautiful bride in a short strapless dress and cowboy boots. The couple begins a flirtatious dance that would make Jennifer Gray and Patrick Swayze stand in awe. Not only are they perfectly synchronized, but they're genuinely good at dancing and you can see their love for each other. Also, they're pretty darned athletic and look like they've been doing this a lot or at least practicing. About halfway through their routine, the rest of the wedding party joins them on the dance floor and the crowd goes wild.
The couple did an equally unique entrance for the actual wedding ceremony. On Wedding Dance Crazy, Trent shared his memories of his unique wedding day. "We had it planned out for months and successfully surprised the audience with an out of the ordinary ceremony entrance. We had a ton of fun doing it and are so thankful for all who were a part of it and able to attend our special day."
Trent is actually a physician and shares tons of videos on YouTube about how to make your kiddos comfortable going to the doctor. You can tell that he's just perfectly comfortable performing and being in front of a camera. We can just imagine that he's an awesome doctor for children. The cute couple is still happily married and has some beautiful children.
Watch this video of this unique couple having the time of their lives.