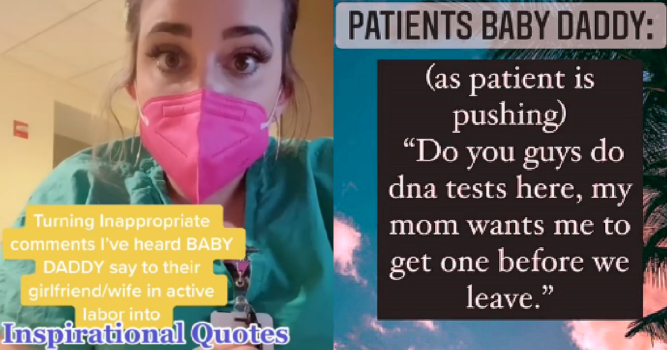 For women in labor, delivering a baby is often a very stressful and, in most cases, painful experience. While going through childbirth can also be exhausting and very challenging, many women come to rely on their husbands and partners for support and love during their journey into motherhood.
While most men are very supportive dads who stick with their partner throughout childbirth, some will often say insensitive things letting everyone know they would rather be somewhere else. While there's no harm in having random selfish thoughts, it's quite another thing to say these things out loud, especially while your partner's in labor. One nurse decided to make a TikTok video turning all of the insensitive and boorish things men have said while their partner was giving birth into a collection of inspirational quotes set to catchy music.
Holly is a registered nurse who works in a California hospital's labor and delivery department. She's heard nearly everything both moms and das say during childbirth.
Recently, she decided to take a few of the best quotes from soon-to-be dads, husbands, and partners and share them online in a hilarious way.
When thinking about inspirational quotes, one is often reminded of those profound sayings set to beautiful backgrounds on Pinterest boards or even those motivational posters hanging in breakrooms across America.
One dad said:
"I think you should just get a C-section. This is taking too long." Another one of the quotes read, "Sew an extra stitch down there for me, doc. We want everything just the way it was before all of this."
People on TikTok became so invested in the quotes that Holly decided to make more videos featuring more quotes.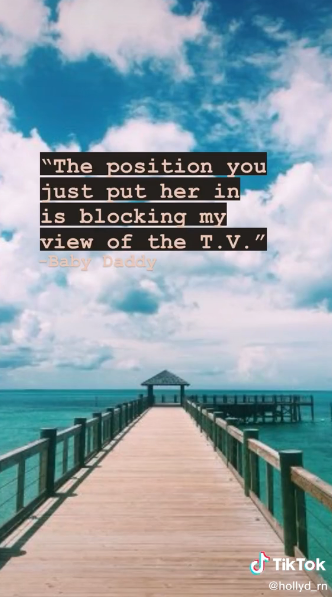 In a video titled Part 2, she shared even more outrageous quotes such as:
"Wake me up when the baby gets here I'm tired," as a dad proceeded to fall asleep during the birth of his child.

Another father asked his wife to "move to the birthing ball," so that he could sleep in the bed. And a third asked the doctor if the hospital did DNA tests, as his wife was pushing the baby out, because his "mom wants him to get one."
Check out part one below.
Here is part two.
And here is part four (we couldn't find part three).
Thanks for reading. Please be so kind as to pass this story along to your friends and family?
Sources:
"Labor & Delivery Nurse Turns Inappropriate Comments From Dads Into Inspirational Quotes" Cafe Mom.