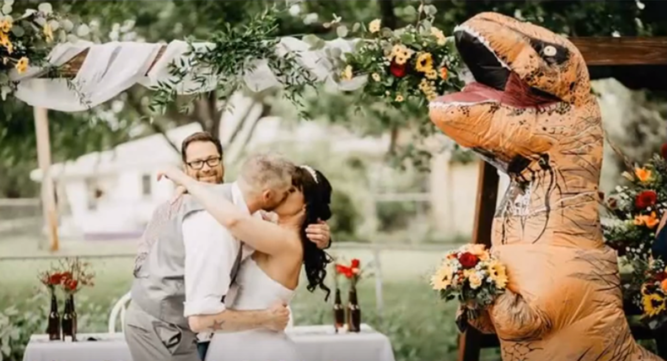 Ask any bride, and they would tell you that they want their special day to be "perfect." That could mean everything from flawlessly arranged flowers to smooth and seamless ceremony. You see, the goal is generally to keep everything according to an exact plan that can take months if not years to devise. However, we all know how hard it is to regulate every little aspect of an event like a wedding. Some things are out of anybody's control, especially the outfit a guest chooses to wear. And we all know that some guests just love to steal the spotlight, like for example if someone wore a fancy wedding dress at someone else's wedding?
While some situations can quickly ruin a bride's special day, there are also occasions where everything ends with tears of laughter.
Recently, a very proud maid of honor, Christina A. Meador, shared an outfit that she wore at her sister's wedding. You see, the catch was that she could wear whatever she wanted. So naturally…
While her sister Deanna Adams probably thought of the idea as an opportunity to have fewer responsibilities in planning her wedding, Christina saw the prospect a bit differently.
She decided to prank her sister by wearing a massive, inflatable T-Rex costume. Her unique and unconventional outfit indeed turned a few heads.
After Christina shared the photo of her costume, it instantly went viral, and since she posted it on August 11, it's garnered over 35,000 shares and almost 6,000 likes. Clearly, folks loved the joke she pulled on her sister.
When your Maid of Honor is a dinosaur…**Disclaimer: This content is exclusively managed by Caters News. To license or use in a commercial player please contact licensing@catersnews.com or call +44 121 616 1100 / +1 646 380 1615

Posted by Jessika Greene on Saturday, August 24, 2019
Here is how folks reacted online.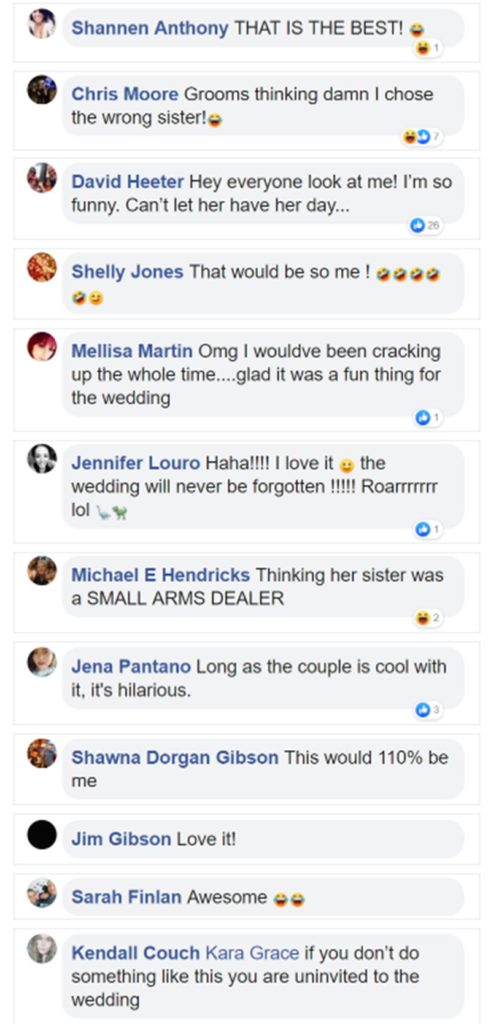 What did you think of Christina's costume? Was it inappropriate or all in good fun? Let us know in the comments, and please be sure to share this story with your family and friends.
Source: Bored Panda