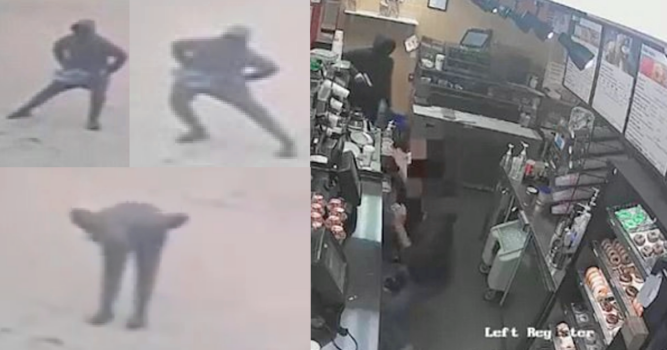 In 2017, a fitness-conscious crook was captured on camera warming up to commit an armed robbery at a donut shop by doing a few stretches outside the parking lot in Philidelphia, Pennsylvania.
On a Saturday, just before 7 am, the robber, who wished to stay limber, is seen bending over, stretching his legs a bit, and doing a few waist stretches.
After a bit of warm-up, the criminal calmly strolls into a Dunkin Donuts shop, wearing a black hooded sweatshirt, black pants, tennis shoes, a black ski mask, and latex gloves.
The robber walks into the store and leaps over the counter before welding a gun to threaten employees.
As the staff backs away, he puts a plastic bag on the ground and orders them to fill it up with cash. He tells the workers:
"You have 20 seconds to give me the money from the registers."
Meanwhile, customers in the store didn't seem to have much of a reaction, as one appeared to be occupied with his phone.
Once he received all the cash, the man ran down North Broad Street.
The robber, described as Black and nearly six feet tall, made away with $334 in cash and is still at large.
You can watch a news report about this bizarre story below.