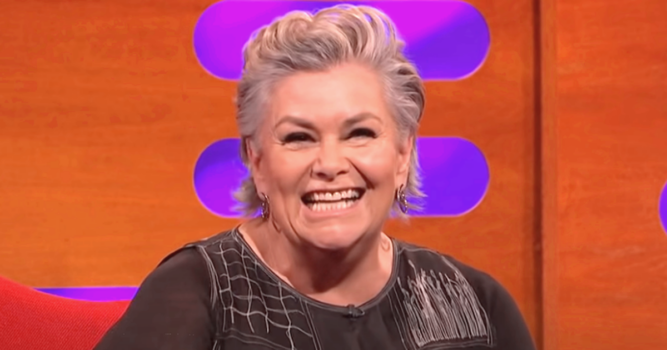 Dawn French took Britain by storm during the tremendous alternative comedy revolution in the 1980s. And during a sleepy Thursday afternoon in November 2021, she reminded fans of her brilliant comedic talents by posting an amusing closeup shot of herself wearing Cacique pants on her head.
While staring intently, wearing her trademark pair of reading glasses, the 64-year-old Welsh star told her 263,000 Instagram followers of the two highlights of her day.
She wrote:
'Today, I am mainly doing two things: 1) I am wearing pants on my head for comedic purposes 2) I am realising how effortlessly co-ordinated all my stuff is…'.
The second remark referred to her selection of similarly-colored stationery and a case-protected iPad, which she arranged to emphasize their coordination.
Fans immediately posted their reactions, commenting with lots of laughing faces and writing messages such as "Winning at Life."
Another fan heaped on the praise, saying: "Love you, you brighten my day."
Dawn's lighthearted humor and positive outlook have made her a pleasure to follow on social media, as she generally keeps an upbeat and sunny commentary on the day's goings-on. This is just one reason why long-time and new fans love her so much. Whenever a celebrity takes their personal time to make us smile, it just feels special.
And if you'd like another good laugh, check out one of our favorite French and Saunders skits in the video below!
Thanks for reading. Please be so kind as to pass this story along to your friends and family?
Sources:
"'You brighten my day!': Dawn French amuses fans as she takes to Instagram wearing pants on her head" Daily Mail.