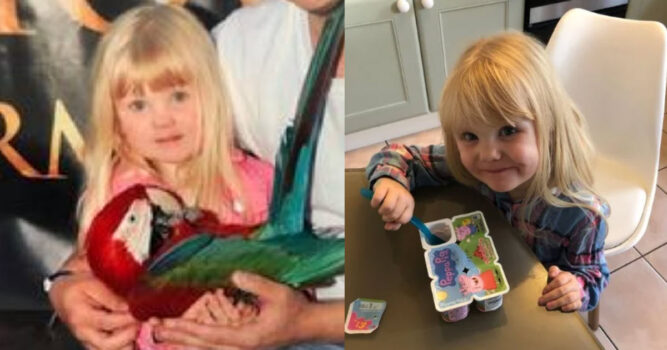 A dad who left his toddler daughter alone for just ten minutes to do a bit of gardening returned to discover a shocking scene that would fill any competitive eater with pride.
On one Saturday afternoon, Aaron Whysall walked inside his garden to find little Olivia grinding from ear to ear and covered in yogurt.
Littered on the table in front of the 3-year-old were the husks of 18 containers of yogurt.
After a quick check of the surrounding area, just to ensure the yogurt wasn't used to make an art project on their walls, Aaron asked his little girl in disbelief if she'd eaten all those yogurts.
To which Olivia's grin broadened as she replied "Yes!" and held up her spoon, indicating that she was ready for more!
Arron, an air conditioning mechanic, was so taken aback by his daughter's enormous appetite for yogurt that he couldn't even formulate the words to be angry.
After cleaning the remains of her meal from Oliva's face, Arron snapped a picture to immortalize his daughter's incredible feat.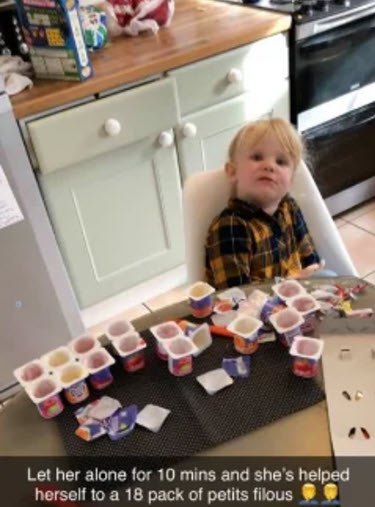 The dad said: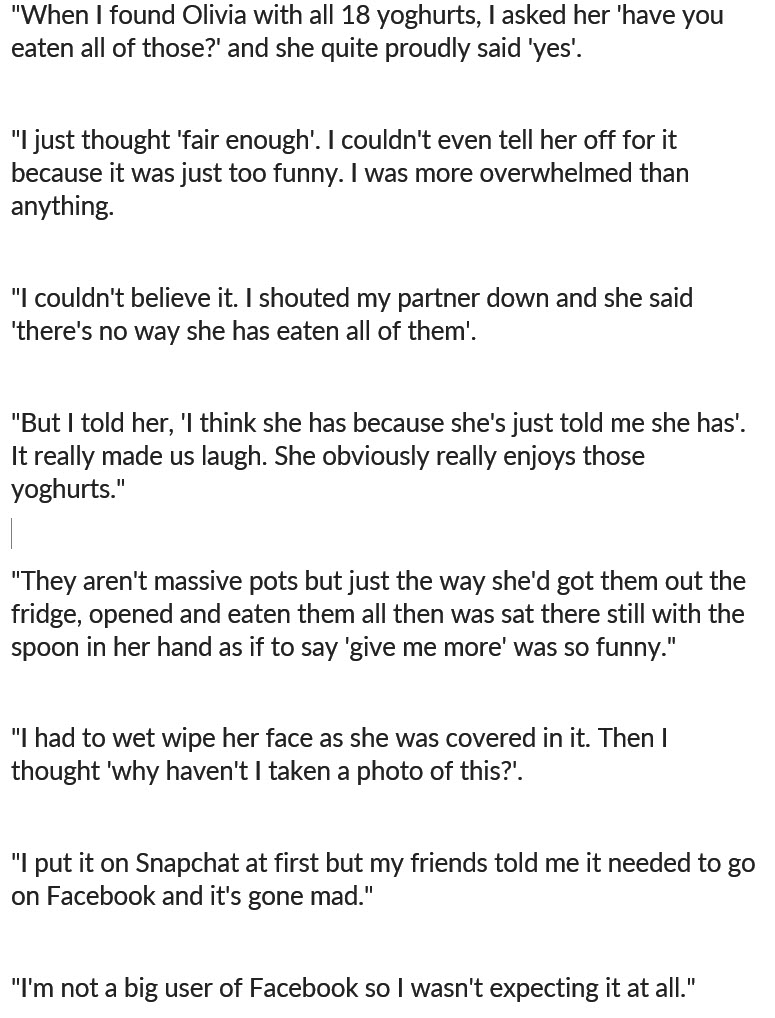 When Billie Hardie, Aaron's fiance, was busy doing her hair, the kids were "doing their own thing." That's when the dad decided it would be an excellent opportunity to mend the back garden fencing finally.
The dad did, of course, pop in occasionally to check on the kids, but when his 6-year-old son Oscar came out to the garden, the little boy informed him that his sister was eating yogurt.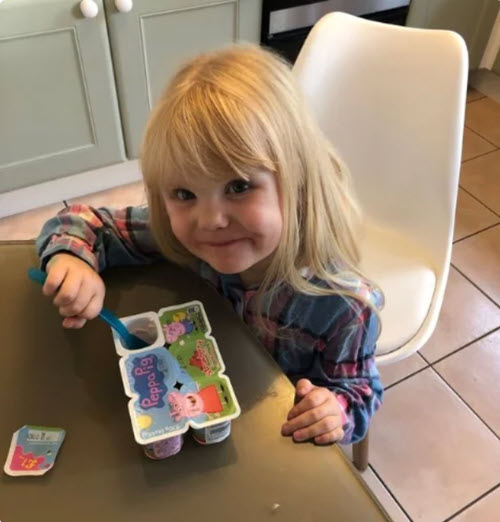 Aaron reassured little Oscar not to worry, as the dad knew Olivia was more than capable of taking care of yogurt by herself. Still, he drastically underestimated her eating skills.
Upon returning to the kitchen to check and make sure Oliva hadn't made a mess, he discovered that his toddler had demolished every single yogurt cup in the fridge!
Billie, who works as a self-employed childcare professional, tends to buy snacks in bulk to feed her children and the kids she looks after for work.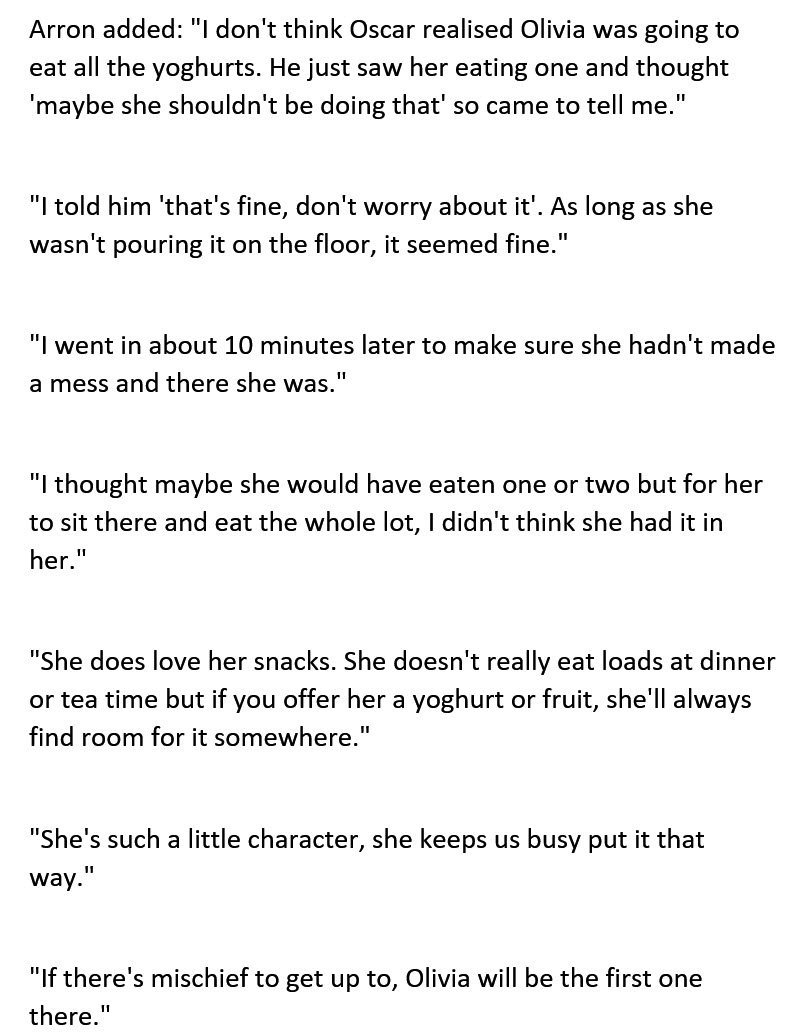 When Billie and Aaron went to the movies on Saturday evening, they informed the babysitting grandparents of what happened earlier in the day. They warned that she might have an upset tummy later that night.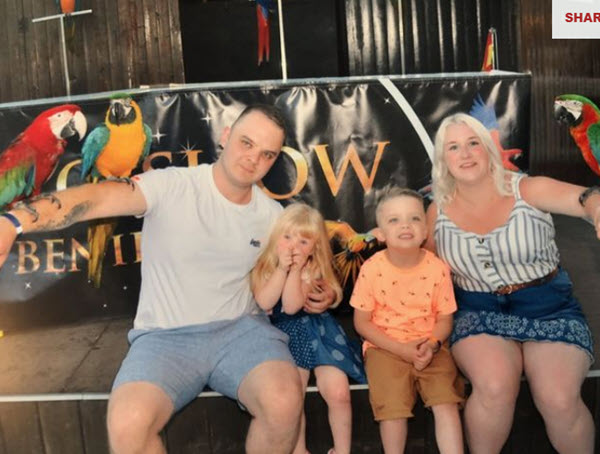 Instead, the child was her "normal self" and eagerly polished off her dinner like the pro she is!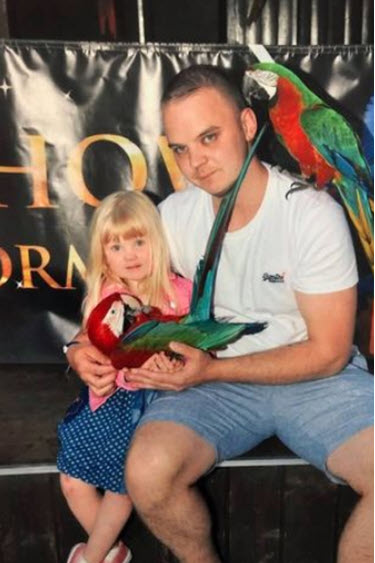 Their daughter's yogurt binge left their yogurt supply empty, and the mother of two had to head back out on Sunday to replenish their supply — which they now store on the top shelf beyond their daughter's reach.
You can also watch a video about this story below.
Thanks for reading. Please be so kind as to pass this adorable story along to your friends and family?