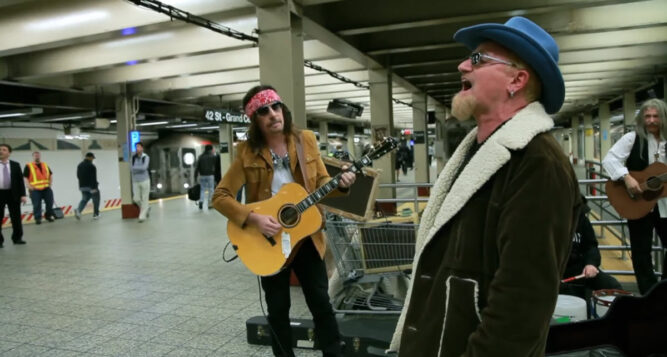 Jimmy Fallon loves to have famous musicians on "The Tonight Show Starring Jimmy Fallon" go to the subway with him in disguise and perform for unsuspecting commuters. One of his most famous stunts involved the legendary Irish band U2. Fallon got U2 all disguised up and headed to New York's 42nd Street Subway station in Manhattan. Fallon said, "Nobody knows this is going to happen. Nobody knows it's U2." Fallon also put on a disguise, including some cheesy spy camera sunglasses. U2 lead singer Bono wore a blonde wig and some fake blond facial hair and the iconic group started singing, "I Still Haven't Found What I'm Looking For."
Jimmy Fallon hilariously put down a case asking for money from commuters, saying, "Support your local artists." No one seemed very enthused about it. The passing commuters didn't recognize the band, but a few of the people did some double-takes, seeming to think there was something familiar about the voices. At one point, Fallon and his group couldn't keep it up anymore, so they took off their disguises and revealed who they were. They even took off their fake facial hair. Before long, a crowd had gathered to watch U2's impromptu mini-concert. The group continued performing and even did an acoustic rendition of "Desire," delighting the subway riders.
It's not every day that you have one of the most successful bands in the world serenading you on your evening commute. U2 has been performing together since 1976 and was initially rooted in a post-punk style. However, their style has evolved over the years, but it still maintains an anthemic quality that was built based on Bono's expressive vocals and lead guitarist "the Edge's" effects-based guitar textures. Their lyrics are usually embellished with spiritual imagery, with a focus on sociopolitical and personal themes. Ironically, even though they weren't recognized in this performance, they're popular for their live performances.
Watch Bono and his band busking in the awesome video below.